ProAdvisors:  Please log into your QuickBooks ProAdvisor Center to download your software.
Accountants:  Please log into CAMPS to download your software.
There's so much you can do with QuickBooks Desktop - manage your sales and income, track your bills and expenses, generate different reports, and more! Download your QuickBooks Desktop now to get you up and running with your business!
First, install QuickBooks Desktop by downloading the appropriate installation file for your product and region.
Download Links for QuickBooks Desktop
From the Downloads & Updates page, select your product and version. Not sure what version you use?
Select Download.
See How to Install QuickBooks Desktop ( for Windows) or check out this quick video:
Download FAQs
How do I find my license and product numbers?
When you install QuickBooks, you'll need to enter your license and product number. Don't know them yet?
For a downloaded product, look in the purchase confirmation email you received from Intuit, or sign into your account and view your licenses by going to the Products & Services section and clicking on the product you want to download.
If you purchased QuickBooks on CD, look for the scratch-off label on the original packaging (next to the UPC code).
ProAdvisors can also view their software information in the ProAdvisor section of QuickBooks Online Accountant.
If you have not previously registered your QuickBooks software and you still can't find your license and product number, our knowledge base article on missing or illegible installation numbers may help.
If you have previously registered your QuickBooks software, you can get help finding your license number or key code with our License Look Up Tool.
Haven't purchased QuickBooks yet? Visit our product page.
What if I just need to update my software?
Why isn't my version of QuickBooks available to download?
QuickBooks versions from too long ago are not available for download. Because we can't ensure that older software will still run on modern systems, we do not support or offer downloads for those products.
Installation Steps for QuickBooks Desktop
Activate (Register) QuickBooks Desktop
QuickBooks Desktop for Windows
With QuickBooks open, press F2 on your keyboard.
On the Product Information window, check the registration status at the right side of the License number.

If QuickBooks says ACTIVATED, you're all set!
If QuickBooks is NOT ACTIVATED:

Select OK to close the Product Information window.
Go to the Help menu, then select Activate QuickBooks.
Follow the on-screen prompts to verify your information, then complete the activation process.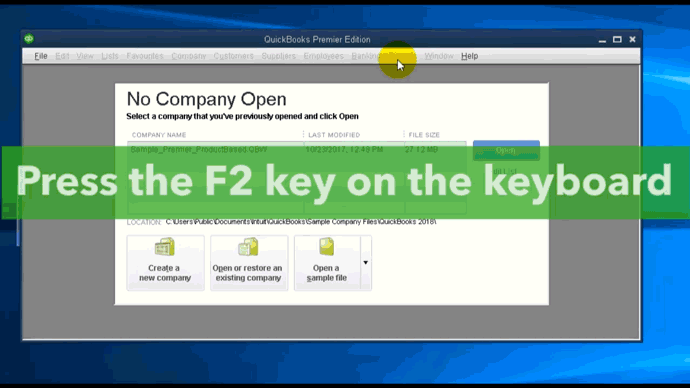 QuickBooks Desktop for Mac
Go to the QuickBooks menu, then select Register QuickBooks.
Enter the License Number and Product Number, then select Next.
Select Register Online.
Follow the on-screen instructions to complete the registration.
Note: If the register option does not appear, the software is already registered.
For older versions
Inline with Intuit's discontinuation plan for older products, discontinued products cannot be registered for the first time. You may re-register discontinued products if they have been registered before and are being reinstalled. You can contact us to get the validation code, but note that assisted support for discontinued products is no longer available.