Every time you install QuickBooks Desktop, you need to register or activate the software. Note that if you have multiple copies of QuickBooks Desktop, you need to register or activate each one.
To register or activate QuickBooks Desktop
For 2016 and newer versions
QuickBooks Desktop for Windows
With QuickBooks open, press F2 on your keyboard.
On the Product Information window, check the registration status at the right side of the License number.

If QuickBooks says ACTIVATED, you're all set!
If QuickBooks is NOT ACTIVATED:

Select OK to close the Product Information window.
Go to the Help menu, then select Activate QuickBooks.
Note: For 2016, select Register QuickBooks.
Follow the on-screen prompts to verify your information, then complete the activation process.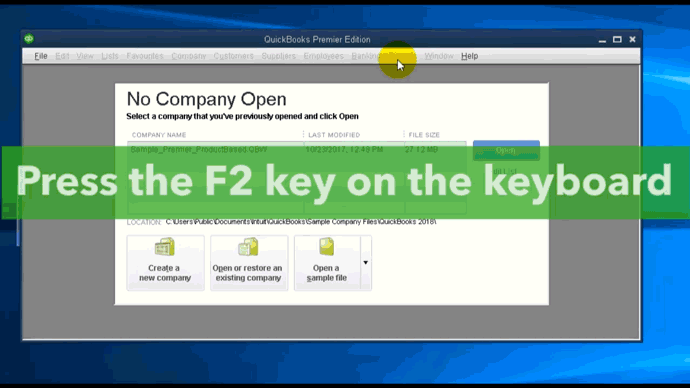 QuickBooks Desktop for Mac
Go to the QuickBooks menu, then select Register QuickBooks.
Enter the License Number and Product Number, then select Next.
Select Register Online.
Follow the on-screen instructions to complete the registration.
If the register option does not appear, the software is already registered. 
For older versions
Inline with Intuit's discontinuation plan for older products, discontinued products cannot be registered for the first time. You may re-register discontinued products if they have been registered before and are being reinstalled. You can contact us to get the validation code, but note that assisted support for discontinued products is no longer available.  
Issues with registering or activating QuickBooks Desktop
If the information you entered is not accepted, make sure it's the same information you gave at the time of purchase.
If you have technical issues such as a blank screen or error message, try temporarily disabling your antivirus software.
If purchased from a retail store, activate QuickBooks using the code that can be found on the box.
If you cannot register on your own, contact us to register over the phone
Related articles