General information
What is Form 944?
As part of an effort to reduce taxpayer burden for small businesses, the IRS has introduced the 944 filing category. The IRS reviews previously filed returns to identify small business employers with $1,000 or less in employment tax (income tax withheld, employee and employer Social Security and Medicare tax) liability (approximately $4,000 in gross payroll). These employers are notified by letter that they are now 944 filers and must file Form 944 instead of 941.
Form 944 is a payroll tax form on which you report:
Employee wages you paid
Tips your employees received
Federal income tax you withheld
Both the employer's and the employee's share of Social Security and Medicare taxes
Advance earned income tax credit (EIC) payments
You file 944 returns annually, on a calendar-year basis, even if your fiscal year is different from the calendar year.  See how QuickBooks calculates numbers on Form 944.
Note: The IRS will notify a taxpayer if they have been designated an annual 944 filer. Unless the taxpayer contacts the IRS (within the date specified by the agency) to request the designation be changed, they will be responsible for filing the 944 return. A company that has received notification by the IRS that they are a 944 filer remains responsible for filing the 944 for the specified tax year even if they have taxes exceeding $1000.00. If the taxpayer goes over the $1000.00 in tax liabilities but is $2500.00 or less during the tax year, the taxes can be paid with the 944 return on or before the due date.
For the most current information about deposit requirements for filing Form 944, review the 941 & 944 deposit requirements, IRS forms and instructions, or contact the IRS.
How does this affect new businesses?
New employers who complete form SS-4 on paper will estimate first-year tax liability and can be accepted in the 944 filing program. New employers who complete form SS-4 online are not to be reviewed for 944 status and are 941 filers. However, the text on the online registration site gives a brief description of the 944 program.
How does this affect existing businesses?
Existing employers who reported $1,000 or less in annual liability in a given year will be switched to 944 filing status for the following year. Unless employers receive a 944 letter, they stay a 941 filer.
944 employers who wish to remain 941 filers must notify the IRS in writing by April 1. Reporting agents (such as Intuit Online Payroll & QuickBooks Online Payroll) cannot notify IRS on behalf of clients unless they have power of attorney (Intuit does not have power of attorney so employers need to contact the IRS themselves).
Employers in either filing status who file the wrong form are subject to Failure to File penalties.
When does the IRS notify me of my filing requirement?
Unless you have received notice from the IRS that you are required to file Form 944, you file Form 941. If you are required to file Form 944 in place of Form 941, you should receive notice of your filing requirement through the U.S. mail in the first week of February.
How does this affect tax deposits?
All employers, including 944 filers, are still subject to employment-tax deposit requirements, including Next Day. This can get problematic for growing businesses:
944 employers accruing $2,499 or less annually in employment tax (personal income tax (PIT), and Social Secruity and Medicare) can remit taxes annually with their form 944 filing. Form 944 is due on January 31.
944 employers who see their business grow might need to deposit taxes more frequently than annually. They still need to file form 944 at year end. Employers with $2,500 or more in liability at the end of the year must have made deposits at least quarterly to avoid a penalty situation. Employers who accrue $2,500 or more in a quarter must make monthly deposits. If a 944 filer becomes subject to the Next Day deposit rule, they must make semi-weekly for the rest of the year.
Update filing schedule
What if I set myself up as a 941 filer and later get notice that I'm required to file Form 944?
If your payroll account is set up with the wrong filing schedule and you have already made federal tax payments, contact
Payroll Support
for assistance. We will arrange to retroactively apply the correct filing schedule to your account.
If you were set up as a 941 filer and should have been a 944 filer, the IRS will ignore the 941 forms you've already filed, and will recode your tax payments as 944-type payments, and vice versa.
You may need to make late filings of Form 941 for those quarters in which your account was originally set up as 944.
QuickBooks desktop payroll
E-pay 940 and 941/944 in QuickBooks Desktop
This article provides a step by step instruction in setting up your 940 and 941/944 scheduled tax payments for e-pay in QuickBooks Desktop.
What are the requirements to pay Federal 940, 941/944 through e-pay in QuickBooks Desktop?
How do I recover my 4-digit EFTPS PIN and/or my Internet Password if I forgot them?
Forgot the 4-digit EFTPS PIN: Call 1-800-555-4477 and IRS will resend it to you by U.S. Mail. IRS can schedule a payment for you in the meantime if you verify certain information. For security reasons, your PIN must be mailed and can not be given to you over the phone.
Forgot the Internet Password: See Update your EFTPS Internet Password
Set up your 940 and 941/944 scheduled payments for e-pay
The bank account you select in QuickBooks Desktop will be used to track your e-payments only. The actual bank account that will be debited by EFTPS for your tax payments depend on what you submitted to EFTPS upon your EFTPS enrollment.

Expected Outcome: You can now create and send your federal e-payments to EFTPS in QuickBooks Desktop. The payment must be sent before 8PM EST, two banking days prior to the due date. If the agency is experiencing problems, the submission may not reach them immediately.
If it is past 8PM EST two banking days prior to the due date, you can e-pay directly through the EFTPS website. Payments must be scheduled at least one calendar day before the tax due date by 8 PM EST to reach the Internal Revenue Service (IRS) on time. See EFTPS FAQ for more information.
On the QuickBooks menu, select Employees, then Payroll Center.

In the Payroll Center, go to the Pay Liabilities tab. From the Other Activities list at the bottom, select Change Payment Method to open the QuickBooks Payroll Setup, and continue with the next steps below.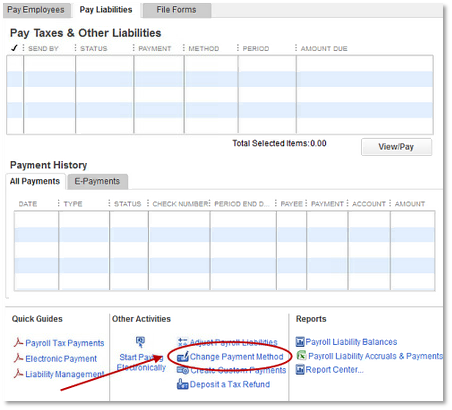 Select Continue.
Select a scheduled tax payment (Federal 940 or Federal 941/944), then Edit.

In the Payment (deposit) method options, select E-pay. Make sure that the payee and payment frequency is correct.

Select Finish.
Select the bank account where you want to track the scheduled tax payment in QuickBooks Desktop, then Edit.
Edit your bank account information if necessary and select Finish. This will bring you back to the QuickBooks Payroll Setup.
Select Continue. This will show you the instructions to enroll to EFTPS. If you are e-paying your state tax payments, it will also include instructions to enroll to State Tax Agency. You may print and close the window.
At the lower left of the QuickBooks Payroll Setup window, select Finish Later.
Create and submit your 940 and 941/944 e-payments
If you get "The withdraw on date entered is not valid" error:
Select OK in the error window.
In the Liability Payment window, change the Withdraw On date to at least 1 business day in advance from the day you are sending the e-payment.

Notes:

Enter your login details carefully for your e-payment to be processed on time and to avoid being rejected by the agency.
If you want to be debited a day after sending, we suggest that you contact IRS instead of using QuickBooks Desktop to process the payment.
From the QuickBooks menu, choose Employees,then Payroll Center.
Select the tax liability you want to pay.

In the Payroll Center, select the Pay Liabilities tab.

In the Pay Taxes & Other Liabilities section, select the liability you want to pay.

Select View/Pay.
This will open the liability check. If you have set up the scheduled tax payment for e-pay correctly, the E-payment option should be selected and the check should display a green lightning bolt that says Payroll Tax  E-payment.
Select E-Pay at the bottom. This displays the E-Pay Login screen.
Enter the 4-digit EFTPS PIN twice, and the Internet password twice. Enter the contact phone number, then verify or enter the email address.
Select Submit.
Expected Outcome: You will get an email to confirm the submission of your e-payment.
Processing times vary from agency to agency. Some tax agencies can take 24 to 48 hours (or longer) to process electronic forms or payments and others process immediately.
External Links