What's NEW?

From ViewMyPaycheck (VMP) to QuickBooks Workforce (QB Workforce)
Starting November 1, 2018,  we are migrating from ViewMyPaycheck (VMP) to QuickBooks Workforce (QB Workforce).
Exciting new features that go beyond viewing pay stubs will be available.
New to QuickBooks Workforce?
If you've never used QuickBooks Workforce before, here's what you need to do set up your company for QuickBooks Workforce.
You must use QuickBooks Desktop, have installed the latest maintenance release and the latest payroll updates.

In your QuickBooks Desktop company, select Employees > Manage Payroll Cloud Services.

If you don't see the Manage Payroll Cloud Services option, you don't have the latest QuickBooks Desktop maintenance release or the latest payroll updates installed.

In the Payroll Cloud Services window, select the QuickBooks Workforce checkbox.

When prompted, create or confirm a PIN used to send payroll data.
Select Save Changes.
Select Return To QuickBooks in the confirmation window.
Next time you run payroll, upload your paycheck info to Intuit when prompted.
NOTE: Before employees can sign up for and access QuickBooks Workforce, you need to upload paychecks.
To upload paycheck info after every payroll:

In your QuickBooks Desktop company file, create paychecks as you normally do.
On the Confirmation and Next Steps screen, in addition to printing checks, be sure to click Send to Intuit.
On the Send/Receive Data window, click Send. When prompted, enter your payroll service PIN.

Tip: If you ever forget to select the Send to Intuit button, you can always go to the Employees menu and click Send Payroll Data.

Have employees start using QuickBooks Workforce.

Once you start sending paycheck information to Intuit for QuickBooks Workforce, just give your employees the website address:

https://workforce.intuit.com/

.

Employees use their existing Intuit account ID and password (if they have one) or sign up for a new account. The first time they access their paychecks, they also need to enter their Social Security number and the net amount of their most recent paycheck.

Get a printed version (PDF) of these instructions.

Since this is your first time setting up QuickBooks Workforce, you will need to upload historical paychecks in order for your employees to view their pay stubs issued prior to setting up QuickBooks Workforce. Refer to QuickBooks Workforce: Uploading historical paychecks.
If you are asked to confirm your account information with a code:
When you sign in to QuickBooks Workforce using your Intuit Account login, you may be asked to confirm your account information with a confirmation code.  After choosing how you'd like to receive your code, click Continue and the code will be sent to you.  If you no longer have access to the email listed, select the option Confirm my account a different way to update your email address.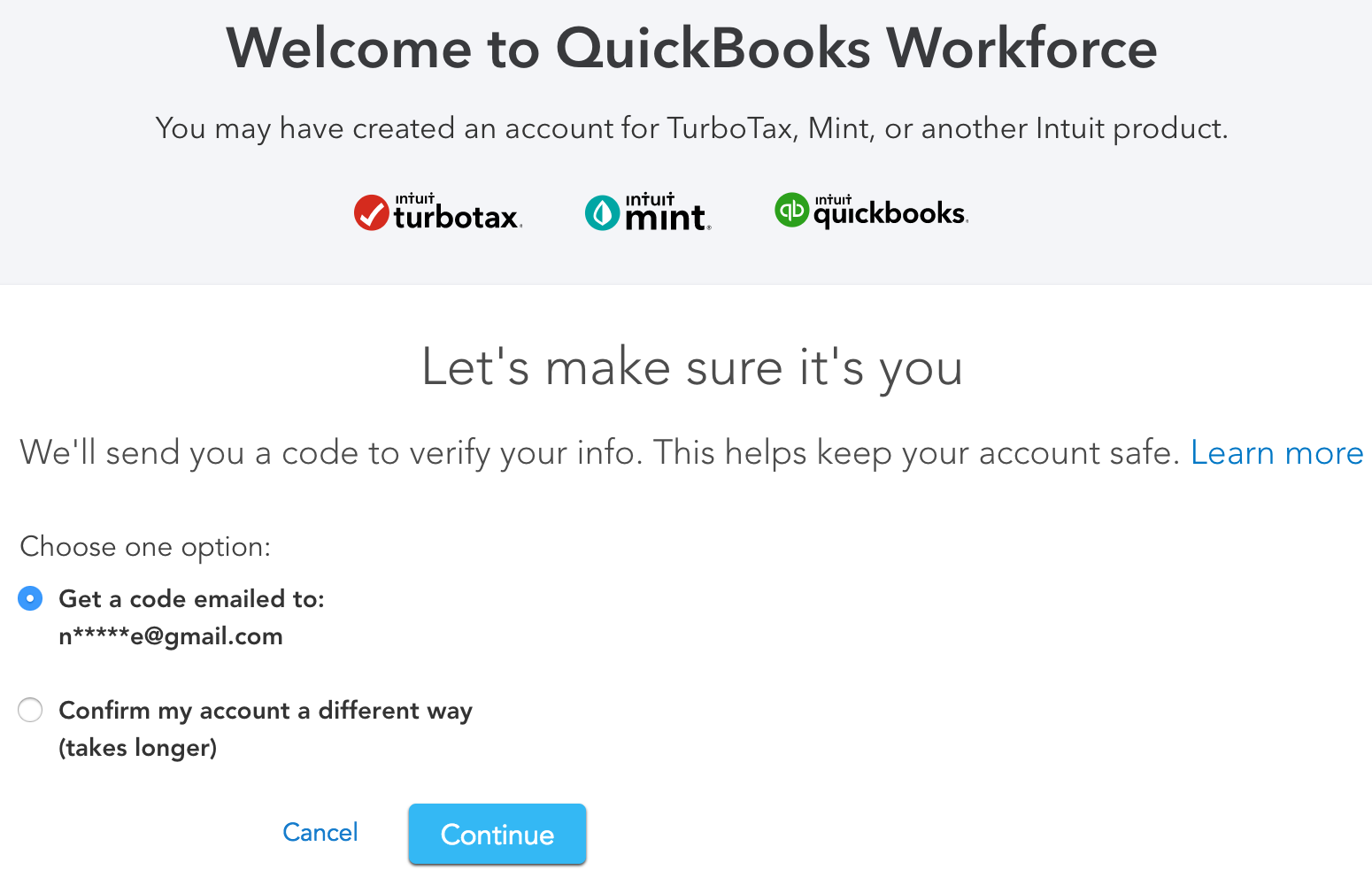 Do NOT leave the screen before entering your confirmation code.  Open another window if necessary.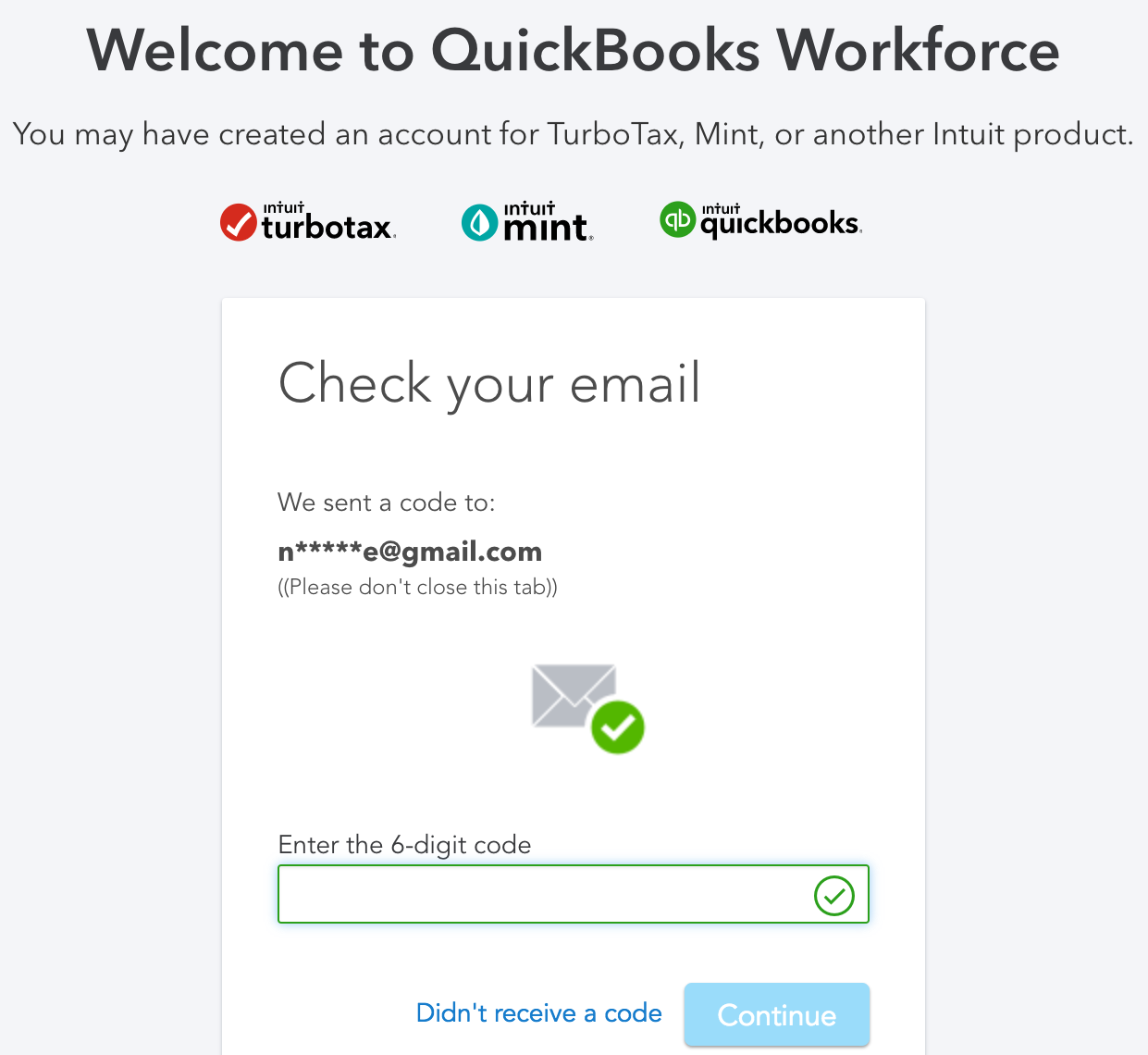 Retrieve the confirmation code. It can sometimes take a few moments for the code to arrive in your email box. You may also want to check your bulk/junk/spam mail folder to see if the code went there.
Once you have entered your code click Continue.  If you don't receive a code click Didn't receive a code.  Once you have been verified you will automatically be signed in to QuickBooks Workforce.
For more information see Multi-factor authentication (MFA) FAQ.
Note: You may receive email confirmation when you update your account information.
See also
QuickBooks Workforce: QuickBooks Desktop for Windows FAQs
QuickBooks Workforce: Uploading historical paychecks