Learn about the new Find-a-ProAdvisor review experience.
As part of Intuit's continued focus on bringing potential clients and ProAdvisors together, we have revamped the Find-a-ProAdvisor review experience. In this article, we'll walk you through the primary updates.
Updated ratings system
With the old review form, each rating category was separate from the others, including the Overall rating. This meant that the Overall rating often didn't accurately reflect the other ratings.
In addition, the Overall value rating was easily confused with Overall rating, and users often didn't know how to distinguish between the two.

In the new experience, the old rating categories have been replaced with more descriptive individual ratings. We have also replaced the confusing Overall value rating with clearer ratings for Helpfulness and Professionalism.
We now calculate your Overall rating as the average of the four individual ratings (rounded to the nearest whole number).

New review fields
Before the update, the review consisted of three fields, which limited the amount of information and context a review could provide. In the new experience, additional fields have been added. The Write a Review section now includes the following:
Title for your review: Added to the review to provide context
Services Provided: Now provides a drop-down menu from which reviewers can select from a set of services that match those you can list on your profile

Tell us about yourself: Allows reviewers to add high-level information about themselves and their businesses, such as the Accounting software they use, their Industry, and a Screen name, that appears with the review to provide additional context

Would you recommend the ProAdvisor: Gives reviewers the ability to note whether they would recommend your firm to a friend
| | |
| --- | --- |
| | Note A Location field is planned, but will not be part of the initial launch of the new experience. |
Improved rating consistency
Before the new experience was implemented, your Overall rating was given as a number of stars (from 0 to 5), while the ratings for Responsiveness, Expertise, and Value appeared as green bars.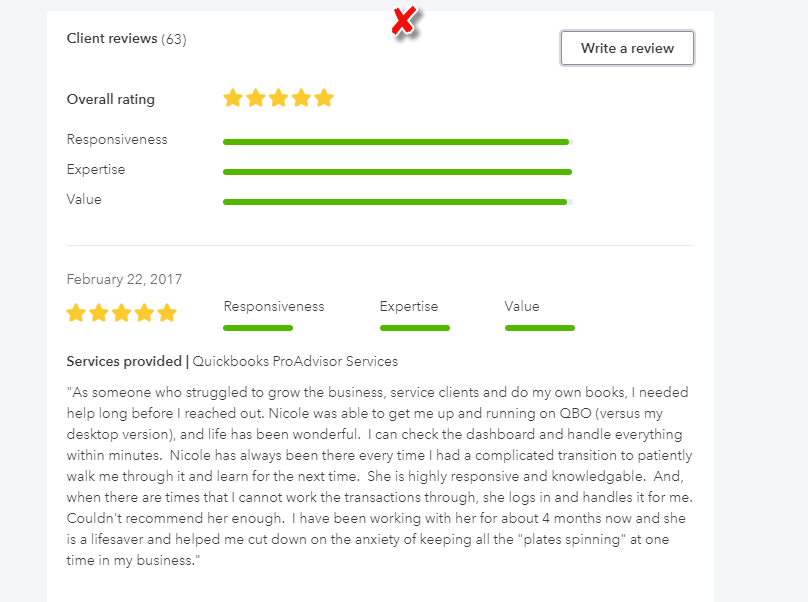 The new experience provides consistency in the way that ratings are displayed. Your Overall rating appears prominently at the top, and the individual ratings that make up that score appear beneath it.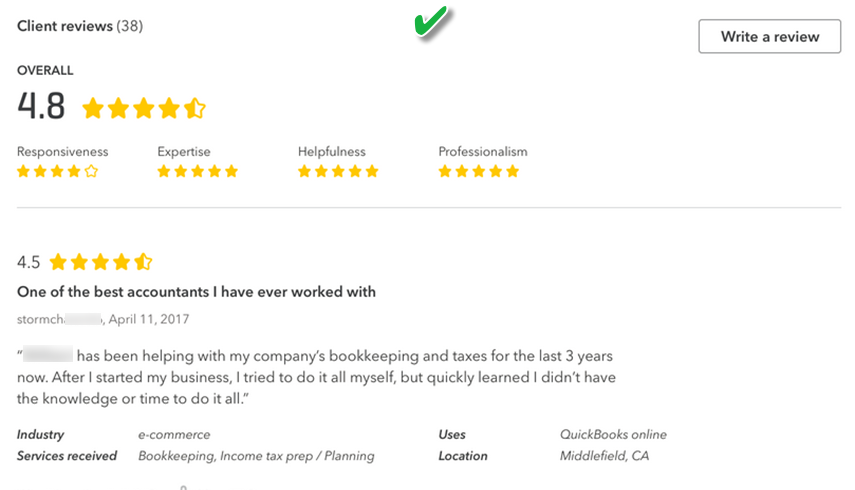 Your average Overall rating combines the average of both your old and new reviews. We won't display average individual ratings (responsiveness, expertise, etc.) until three new reviews have been entered in the new format. The combined individual ratings don't include old review data.
What happens to the old reviews?
After the new experience is launched, any reviews you received before the update will remain on your profile. The overall ratings from older reviews will be incorporated into your average Overall rating.
However, individual ratings (green bars) for these old reviews no longer appear on your profile.  And they aren't added to your individual ratings in the new format.