QuickBooks Online has launched the number one most requested feature — Contractor Direct Deposit. Starting March 2018, customers with an active payroll subscription in QuickBooks Online can pay contractors by direct deposit.
To learn more about Contractor Direct Deposit:

These are the important things you need to know about Contractor DD:
Availability
When will this feature be available?
This feature is now available to all QuickBooks Online Payroll, and QuickBooks Online Full Service Payroll!
I have a QuickBooks Online account, will I be able to use this feature?
You will need to subscribe to an online payroll service — QuickBooks Online Payroll or QuickBooks Full Service Payroll to use this feature.
Note: If you have inactive W-2 employees or no employees at all, you will still need to have a subscription to pay contractors with direct deposit.
Can I set up a different funding bank account to pay contractors?
No. You can only use one bank account for all direct deposit transactions.
I have a payroll subscription but it's not active for direct deposit, do I need to turn it on first?
Yes. You need complete direct deposit setup before you can use this feature.
Where do I view my transactions?
Select Expenses from the left menu, then Expenses.

Select a transaction you want to view.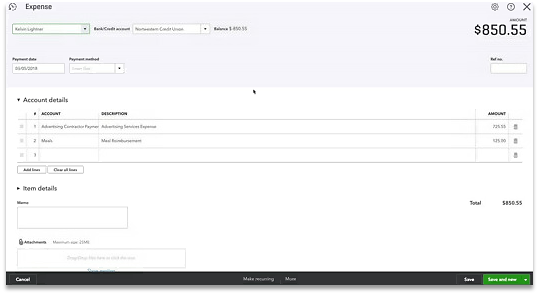 Billing
How much does this feature cost?
On top of your monthly payroll subscription, an additional surcharge will be added to your billing.  This per-contractor, per-month fee is the same as the per active employee fee in your QuickBooks Online Payroll or QuickBooks Full Service Payroll subscription. You are able to issue as many direct deposit payments to a contractor as needed with just this flat fee.
Do I have to switch the contractor status to inactive for me not to get charged?
No. Our system will be able to identify if you have run direct deposit payment for that contractor.
I created a contractor DD but deleted it, will I be charged for the deleted transaction?
No. You will only be charged if you have run direct deposit payments for your contractors.
What if I'm still charged even if I did not run direct deposit payment for that contractor?
Contact Payroll Support for assistance.
What if the client is on our Wholesale billing? Will they see the price of  per contractor per month service fee and will they be able to activate it charging it to my account without my involvement?
That is a possibility. Please be sure to review this feature with your clients to determine if they are interested in using it prior to incurring any fees.
 
Timing and Process
Can I void/delete the contractor DD?
No, if the payment has been processed.
Yes, if the payment is still pending.
If the contractor DD is already processed, how do I void it?
You need to create a journal entry to void this transaction. See Create a journal entry to help you add it.
My employees receive their direct deposit the same day I approve the payroll, would that be the same for contractor DD?
No. Same-day direct deposit is not be available for this feature yet.
When will the money be taken out of my funding bank account?
The funds will be taken out of your bank account the day before the pay date, after 5:00 PM PT.
When will contractors see the funds in their account?
Contractor DD is scheduled to post the next business day before 5 pm your local time unless your direct deposit lead time is set to 5 business days.
Do customers and contractors receive DD payment email confirmation? What are the types of email confirmation do they receive?
Yes. Customers and contractors receive email confirmation when:
DD payment is scheduled and settled.
Intuit fails to debit from funding account (customer only)
Intuit fails to credit to posting account (customer only)
Can we resend email confirmation?
Please contact customer support for assistance.
Will there be an indicator showing the payment was processed through direct deposit?
Yes, the Transaction No. field will display DD on the expense record, if the transaction was made via direct deposit.
I don't have access to my desktop, can I use the mobile app in creating a contractor Direct Deposit?
No. At this time you must be using a desktop browser with QuickBooks Online to create contractor direct deposits.
Accounting
Will the entry be duplicated with the bank download?
When a contractor is paid it will reflect in the check register. When downloading transactions from your bank, we will attempt to match the transaction but there remains the possibility that if it is not matched, a duplication could occur.
Can you enter a class or customer when paying a contractor?
We do not support that feature at this time.
If the contractor has emailed you an invoice, how do you correlate the invoice to the payment?
At this point we do not support file attachments for direct deposit payments, but in the future working on the ability for employers to attach an invoice to a payment record.
Can you use products and services and assign to a job?
At this time we do not support this capability in contractor direct deposit.
How to apply a DD expense to a vendor bill?
Select Expenses, then Vendors.
Select a vendor and the desired DD expense from the Transaction List.
Under Add to Expense, select Add.

Add the amount of the DD expense and select Save.
Review the changes in Amount to Apply and Amount to Credit, then Save and close.

Customer's open balance will be reduced.
Setup
I want to activate my direct deposit. Where do I enter my funding bank account information?
You have 2 options to add your funding bank account information:
Option 1 - Through employee setup
Option 2 - Through contractor setup
Select Workers from the left menu, then choose Contractors tab.
Select Get Started under the price.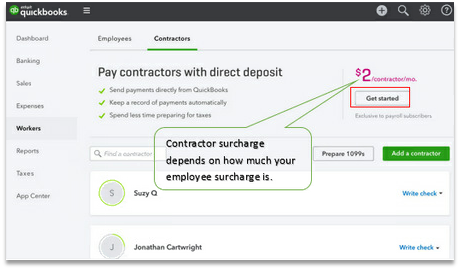 Select Set up direct deposit.
Select Add bank. Enter your banking credentials or bank account information.

After entering bank information, a test transaction must be entered to verify bank account on file. If a bank account was connected with your banking credentials, you will not see this prompt.

How do I create 1099s?

To prepare 1099s, see Prepare and file 1099s in QuickBooks Online for instructions.
How to add or edit contractor information?
Can contractor add their own 1099 info? How?
Yes, your contractors can add their own 1099 info. You will have the option to invite them to create an account. To send the invite, see Invite a contractor to add their own 1099 tax info.
I already invited my contractor to enter 1099 info but he can't find the link. How do I resend the invite?
To resend the invite, see Invite a contractor to add their own 1099 tax info.

How do I set up my contractors for direct deposit payment?
Select Workers from the left menu, then select Contractors.
Select contractor's name.
Note: Pay with direct deposit drop-down will show if bank account is already added to contractor's profile
Select Add Bank.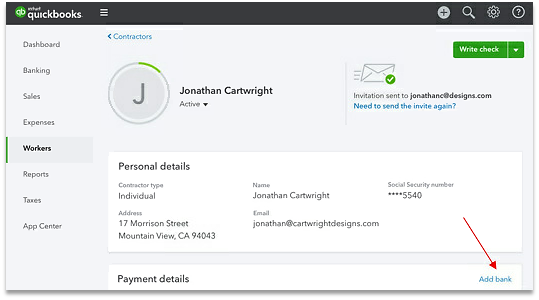 Enter contractor's bank account information, then select Save.

Can contractors enter their own bank information? How?
Yes. See Add contractor direct deposit info in QuickBooks Self-Employed for assistance.
How do I change contractor's bank account?
Select Workers from the left menu, then select Contractors.
Select the contractor's name.
In the contractor's profile, select Change bank under Payment details. After updating the bank information select Save.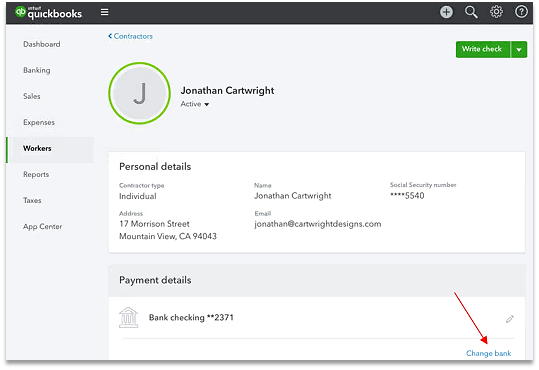 How do I create a contractor DD payment?
Select Workers from the left menu, then select Contractors.
Select the write a check drop-down on the contractor you would like to pay, then select Pay by Direct deposit. If you have already been setup for direct deposit, Pay by direct deposit will be your default option.

Enter payment amount and select a Category for that payment. You can also add description for that amount.
Note: You can add another line item if you wish.

Select a Corresponding account in QuickBooks.
Note: This is the account inside your chart of accounts that this transaction will post to, and not the account we will debit from. This account MUST be classified as a Checking account in QuickBooks Online.

Total amount will display at the bottom next to Pay. Select Pay.
A confirmation message will pop up. Select Yes, let's proceed to confirm payment.
Contractor payment details will show. Select Close.