Overview
If you have employees that live in one state and work in another, the employee may be subject to income tax in both states. This article outlines guidelines to assist with determining withholding responsibilities specific to supported QuickBooks functionality. For example in some cases, there are reciprocal agreements between states that would require an employer to only pay income tax to one of the two states.  Consult your state agency to determine what income taxes you may be subject to.
For information about unemployment see QuickBooks Payroll: Multi-State Employer Unemployment Insurance Requirements.
Expected Outcome
You can determine your withholding responsibilities.
Assumptions
You have an active Intuit Payroll subscription and have an employee(s) set up in QuickBooks that you may need to withhold state income tax in more than one state.
Details
Here are some questions to help determine your withholding responsibilities:
What is the Current Company State Location?
What are the State(s) where Employee(s) Live?
What are the State(s) where Employee(s) Work?
If multiple Live or Work states - Does reciprocal agreement between the states in question exist?
If multiple work states - Does business Nexus in all the states in question exist?
Apply the answers to these questions in the table below to determine the scenario and if QuickBooks Payroll can support your withholding requirements.
This table is built with state specific examples, (examples are accurate) but each state should be interchangeable and applied to your specific customer example. This is for the purpose of determining withholding only.
If business nexus exists in a state, please check with the appropriate state agency to determine registration requirements and unemployment in the Nexus state.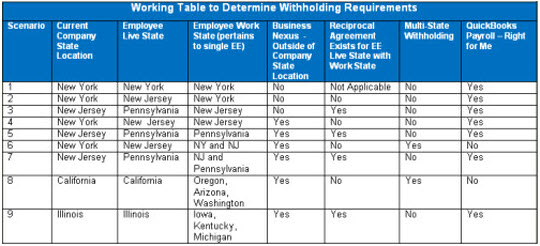 FAQ's and Definitions
Employee State Moves
QuickBooks can track more than one state withholding tax per employee if the employee was transferred from one state to another; however it cannot track two state withholding taxes if the employee works in two states simultaneously. Click here for more information on
how to setup an employee state move
.
What is Business Nexus?
Nexus is a term used to define a certain level of activity enabling a tax jurisdiction (e.g. state or city) to impose their tax laws upon a particular tax payer. All state tax issues are based upon establishing sufficient nexus. Without it, states and localities have no legal authority to impose their tax. Examples of common activities creating sufficient nexus would include:
Established bank account
Collection activities
Trade show attendance
Certain drop ship arrangements
Consigned inventory
Contracted service agents
Collect: Sales Tax
Pay: Sales / Use Tax
Note: In order to determine if business nexus exists, contact your state agency.
Reciprocal Agreements (see table below)
This table lists the states with reciprocal agreements to one another
| State Where Employee Lives | State Where Employee Works |
| --- | --- |
| District of Columbia | No reciprocity agreements are in effect.  District of Columbia withholding is required from District of Columbia residents regardless of the state of employment. All non-residents who work in DC can claim exemption from withholding for the DC income tax. |
| Illinois | Iowa, Kentucky, Michigan, Wisconsin |
| Indiana | Kentucky, Michigan, Ohio, Pennsylvania, Wisconsin WH-47 |
| Iowa | Illinois |
| Kentucky | Illinois, Indiana, Michigan, Ohio, West Virginia, Wisconsin, Virginia |
| Maryland | District of Columbia, Pennsylvania, Virginia, West Virginia |
| Michigan | Illinois, Indiana, Kentucky, Minnesota, Ohio, Wisconsin |
| Minnesota | Michigan, North Dakota |
| Montana | North Dakota |
| New Jersey | Pennsylvania. |
| North Dakota | Minnesota, Montana |
| Ohio | Indiana, Kentucky, Michigan, Pennsylvania, West Virginia |
| Pennsylvania | Indiana, Maryland, New Jersey, Ohio, Virginia, West Virginia. |
| Virginia | Kentucky, Maryland, District of Columbia, Pennsylvania, West Virginia |
| West Virginia | Kentucky, Maryland, Ohio, Pennsylvania, Virginia WV/IT-104R |
| Wisconsin | Illinois, Indiana, Kentucky, Michigan |