Starting February 2018, QuickBooks Online gives you the option to migrate to the new Automated Sales Tax experience. If you are currently using the Manual Sales Tax Center, you will be asked to make the switch and you will be walked through the setup process.
How the migration process works
If your account has been enabled for automated sales tax and you select Taxes from the left menu, you will be directed to a page explaining the benefits of the new Automated Sales Tax feature.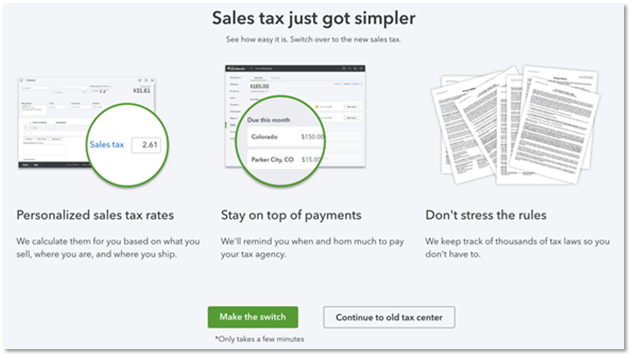 If you select Continue to old tax center, you will be asked to confirm that you don't want to make the change. You will also be asked for your reason then you'll be redirected to your existing sales tax center.
If you select Make the switch, you will be walked through some questions and steps for moving your tax setup to the new experience.

Verify your address. Remember, we are basing tax calculations on this address so it's important that it is correct.

If it's correct, select Looks good.
If it's not, select the pencil icon then correct it.

Confirm your tax agency. On this screen, you will see the tax agency name you previously set up on your account and what it will be called going forward.

If it's correct,select Looks good.
If it's not, select the link I use a different tax agency then correct it.

Choose the appropriate filing frequency then select Next.

The setup is complete. You will see a confirmation that your migration is done along with a breakdown of the general sales tax rate(s) based on your company location. This page also explains that your rates will change based on shipping and special tax rules. Select Go to taxes to access your new sales tax center. Refer to Sales Tax Center Navigation if you need more information.
Frequently Asked Questions
What happens to my existing data after migration?
You will not lose any transactional data after migration.
NOTE: When you migrate to or if Auto Sales Tax is enabled on your brand new company file, you'll see a Permit no. field on your checks and other expense transactions. There is currently no way to turn off or remove this field. If you don't want to see it on your transactions, send us a message (Gear > Feedback).
What should I do if I want to move back to manual sales tax?
If you have chosen to migrate to automated sales tax from the manual sales tax feature: You can revert on your own by following these steps:
Select Taxes > Sales Tax Settings.
At the bottom of the screen, you'll see "Want to temporarily switch to the old tax center? Switch here."  Select the here link.
If you have a brand new Quickbooks account with automated sales tax already enabled: You can use the override capability available on the transactions to ignore the automated calculation. If the override won't work and you still want to revert be removed from auto sales tax, contact Customer Care.