This article describes the different tabs in QuickBooks Merchant Service Deposits.  Note that the tabs along the top are dynamic and will only appear if applicable.
Payments that could not be matched to an existing invoice in QuickBooks show up in the Add Online Payments Tab.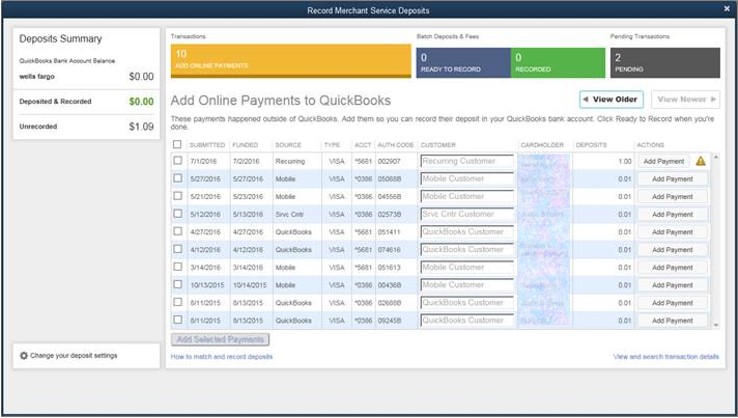 Click Add Payment to record each payment in QuickBooks.  Optionally, you can create an Invoice using the Need Invoice link.  If you create an invoice here you will need to click Customers>Receive Payments to apply the payment to the invoice. If there is no Customer created for these payments and it is just added, the payment will record as QuickBooks Customer, ACH Customer or Recurring Customer. In order to avoid this, enter the correct customer name in the Customer box and then select Add Payment.
---
 Matched Transactions is now the  Ready To Record Tab- Once all the transactions in a batch are recorded, the batch will show up under Ready To Record. If all the transactions in a batch have not been recorded, you will not be able to record the batch and it will say Transactions Not Added.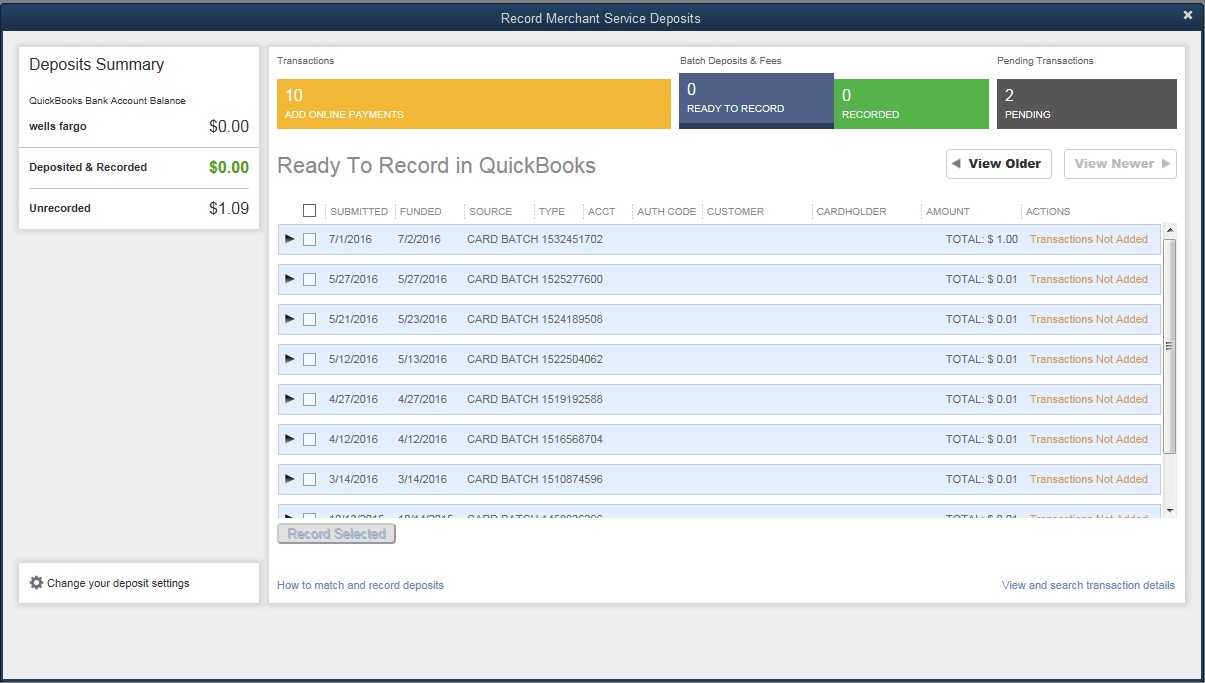 ---
 The Recorded tab is there to show you what you have just recorded and to visually show that the batches have successfully been recorded.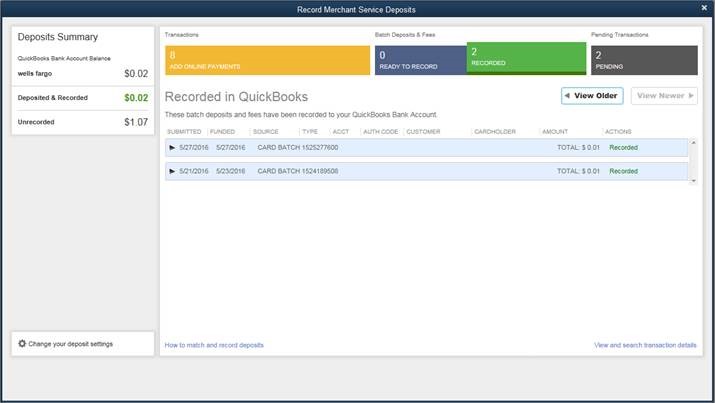 ---
 The Pending tab will show all payments that have not showed as funded in the MSC. This serves a function of notifying you of what will be coming into be recorded soon.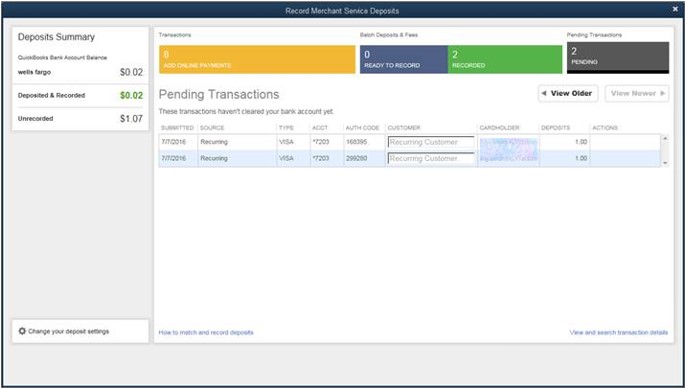 ---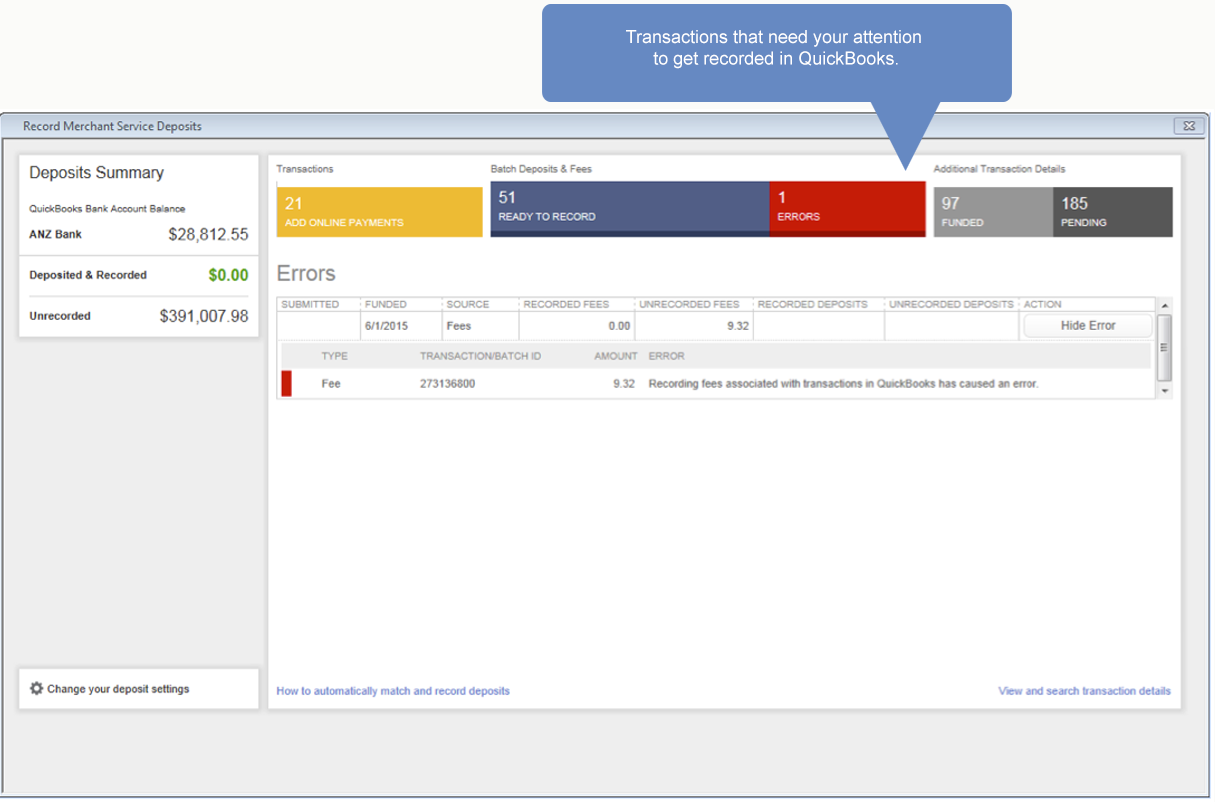 Transactions and fees that appear here need to be manually recorded in QuickBooks.  If one or more transactions in a batch are in error then the batch will not record.  This is to ensure the amount in QuickBooks matches the amount on your bank statement.  
Solution:  
Manually record the payments in error by clicking Customers>Receive Payments  
Click Banking>Make Deposits
Select all the payments in the batch and click Save & Close
---
 Change your deposit settings screen: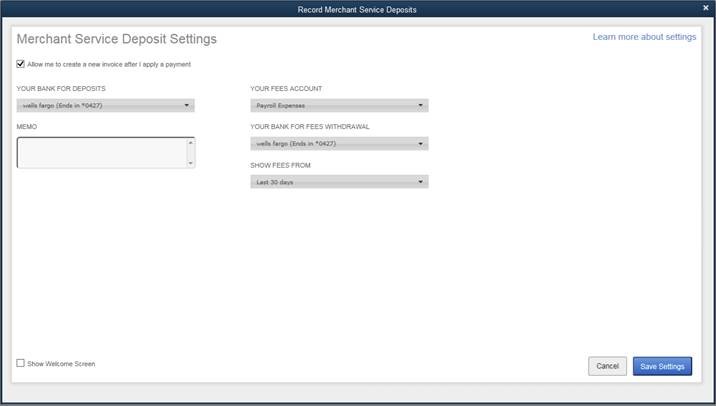 HOW26048