The dashboard has a managerial reporting focus that displays the same data in a different way than a standard Profit and Loss financial report. The display totals include both Reviewed and To Review transactions while the P&L report only shows Reviewed transactions.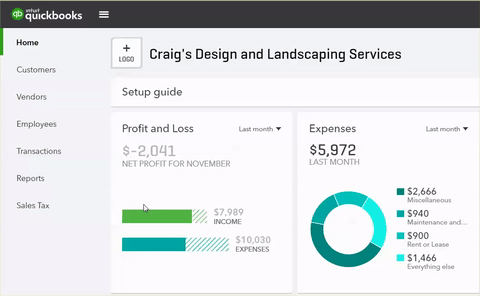 View of dashboard on homepage
If you would like to know more about the dashboard P&L report, here are a few pointers:
The dashboard P&L Income and Expense Totals use the Company default setting for cash or accrual basis.
Dashboard Expenses is equal to the total of Total of Cost Of Goods Sold (COGS), Expenses and Other Expenses.
Dashboard Income is equal to the sum of Total of Income and Other Income.
The dashboard P&L report will not include journal entries. The transactions have to be an actual expense, invoice or sales receipt.
You can hover over the solid portion of the display bar to see the Reviewed value. 
Alternatively, accept all To Review transactions before attempting to compare the dashboard to the P&L report.