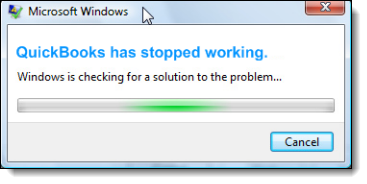 When you attempt to open QuickBooks Desktop, you see an error, or no error at all (nothing happens aka freezes or freezing). There are several possible causes for this issue.
Your company name is too long.
Damaged or missing QBWUSER.INI file.
Corruption on your hard drive.
Damaged program files or QuickBooks Desktop installation.
Damaged Windows operating system
---
IMPORTANT
Make sure your QuickBooks Desktop is on the latest release.
QuickBooks requires the windows regional settings to be set to United States locale. Make sure that you are using the right regional settings.
The following troubleshooting steps are specific to Windows operating system which is not an Intuit product. The steps can become complex if errors occur while repairing or uninstalling .NET Framework. If you are not comfortable doing these steps on your own, Intuit recommends you consult with your computer's manufacturer or a computer professional.
Solution 1: Use the QuickBooks Install Diagnostic Tool
Solution 2: Reboot and temporarily disable your antivirus program.
Reboot your computer.
Open your QuickBooks Desktop. If the error persists, temporarily disable your antivirus.
Note: Please refer to the antivirus' developer for steps on how to disable your antivirus program.
Solution 3: Rename the QBWUSER.ini file
Rename the QBWUSER.ini file.
Note: Renaming the QBWUSER.INI file erases the list of your previously opened company files so you will need to manually re-open your company file(s).

Open the folder where the QBWUSER.ini is saved. if you can't see the folder, you might need to enable hidden files and folders.
Location: \Users\[Your user name]\AppData\Local\Intuit\QuickBooks [year]
Right-click the QBWUSER.ini and select Rename.
Add .old at the end of the file name.
Example: QBWUSER.ini.old

Rename the EntitlementDataStore.ecml file.
If the program opens after renaming either QBWUSER.ini or EntitlementDataStore.ecml, try opening a sample company file.

If the sample file opens but you can't open your own company file, copy the file to a different folder and open it from there (preferably a local folder instead of a network location). If you can open the company file from a different location, the problem might be coming from a damaged folder or folder permissions.
If you cannot sign into your file even after that, your company file is most likely damaged. Try restoring an earlier backup of that file instead.
If you can't open the sample company file or QuickBooks won't even start, the actual QuickBooks installation is damaged.
Solution 4: Reinstall using clean install
Solution 5: Create a new Windows Admin User
1003139 / SLN42882