When you access the old ProAdvisor website, you might see a notice that says, "Looking for My ProAdvisor? It's got a new home!"

As of February 7th, 2016, our accountants.intuit.com website has begun redirecting ProAdvisors to QuickBooks Online Accountant.
 
Why am I in QuickBooks Online Accountant? I'm a desktop ProAdvisor!
We're turning QuickBooks Online Accountant (QBOA) into the one-stop shop for all things ProAdvisor. Even if you only use our Desktop products, QBOA will be there for you as the central access point for all of your ProAdvisor benefits and resources. And, of course, QBOA is completely free.

To make this change happen, we have to move all of our ProAdvisors from old home (accountants.intuit.com) to QBOA. We will then retire the old website.
How will this impact me?
Once your ProAdvisor center has moved to its new home in QBOA, you will still be able to access all of your ProAdvisor benefits- with slight differences in how you get there.
Start by signing into qbo.intuit.com. You may be asked which QBO company you would like to log into; if so, select your ProAdvisor firm listed under "QuickBooks Accountant."

Note: if you don't have a QuickBooks Online Accountant firm yet, you can sign up for one. It's quick, easy, and free.
 
Once you have logged into your QBOA ProAdvisor firm, click on the "ProAdvisor" tab on the left.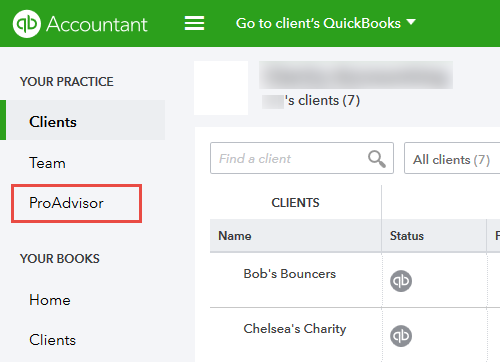 This page features tabs that you can click in order to access each of your ProAdvisor benefits: Certifications, Profile (for your Find-A-ProAdvisor listing), Training, Software and Discounts, Resources, and Notifications.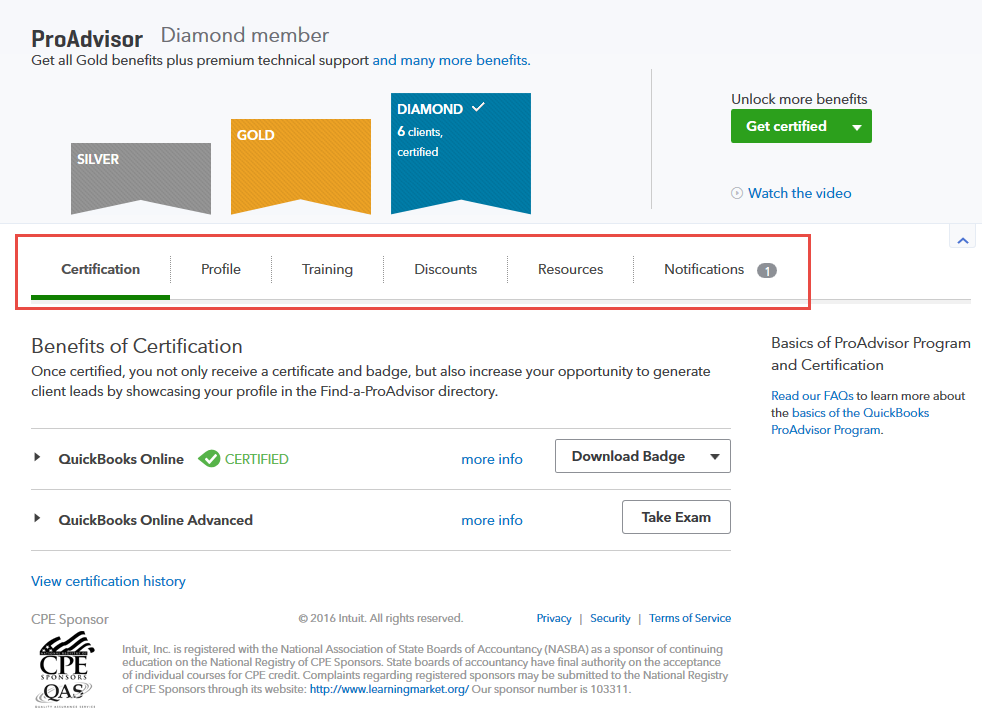 I used to see links to the support page in my ProAdvisor center. How do I get there now?
It's even easier to get help in QBOA. Just click the
Question Mark icon
 in the top-right corner of the screen. From here you can:
Search the help database without leaving QBOA
Access live chat with the click of a button
View the support phone number
Visit the Accountant help hub for even more resources and articles
No matter what kind of support you need, the help menu in QBOA can get you there quickly. INF29675