There are a few things to consider before running direct deposit payroll with QuickBooks Online:
You must approve paycheques to be paid through direct deposit by at least 5 pm Pacific Time, two banking days before the pay date.
The Risk Analysis can take up to three days to complete the direct deposit after initial set up.

Double check that all account numbers and information is correct. Incorrect information may cause a delay, or result in funds not being sent to an employee.

A Best practice is to begin direct deposit set up the day after running a payroll with paper cheques to ensure you are not in a 'Pending' state when it's time to run your next payroll. Direct deposit set up and verification can sometimes take up to a week.
The Principal Officer is the owner of the bank account being set up for direct deposit.
Email communications for direct deposit will be sent to the Master Administrator (MMA) on file, but the AML/OFAC email and the verify bank account email will go to both the Principal Officer (bank owner) & the MMA.
Most companies will receive an AML/OFAC email from notify@quickbase.com requesting proof of identification and more info. The Principal Office must respond to this email with the appropriate documentation prior using direct deposit and can take up to 2 business days to approve once the ID is submitted.
Direct Deposit Processing Timeline

1. Your direct deposit request is sent to Intuit.
The status of the transaction during this stage is still pending.

You must transmit payroll information to Intuit before 5:00 pm PST at least 2 banking days before the cheque date if there's a need to void any of the paycheques or send additional paycheques.

At 5:00 pm PST, payroll offloads.
**Note: Paycheques can be sent up to 45 days in advance.

2. Payroll is offloaded
Typically, direct deposit payroll is offloaded 2 banking days before the paycheque date at 5:00 PM PST.

Intuit cannot stop the direct deposit transaction at this point.

DD payroll is electronically sent to Automatic Clearing House (ACH) for processing.

Intuit will debit your bank account one banking day before paycheque date.

Debit can happen anytime within 24-hour window.
3. Funds are posted (Pay Day).
Funds are deposited to your employee's account on the paycheque date.

Time of direct deposit posting or availability of funds is determined by the employee's bank and is not controlled by Intuit.

If the paycheque date falls on a non-banking day, the funds will be posted in the Employee's bank account on the next banking day.

Employee's bank has until 11:59 PM of the day of the cheque date to post the funds to the employee's bank account. 

 
Initial Set Up
Click the Gear icon. 
Select Payroll Settings.
Under Payroll, select Direct Deposit.
Review what you'll need to set up direct deposit and click Yes! Let't get started.
Fill in required fields for Employer Bank Account and Account's Principal Officer. 
Click Continue.

You will receive a confirmation email from

notify@quickbase.com 

prompting you to verify your information. Once the information is verified, you will receive another email confirming your pre-authorized debits.
In 2-3 business days, a small debit of less than $1.00 (CAD) will be taken from your account as a test. To verify this amount:
Click the Gear icon.
Select Payroll Settings.
Under Payroll, select Direct Deposit.
Under Action, select Confirm Test Transaction. (Note: This option will not be available until the test amount has been debited.)
After successful verification, you're ready to set up employees!
Setting Up Employees 
Once you've completed initial set up, your direct deposit settings screen will look like this: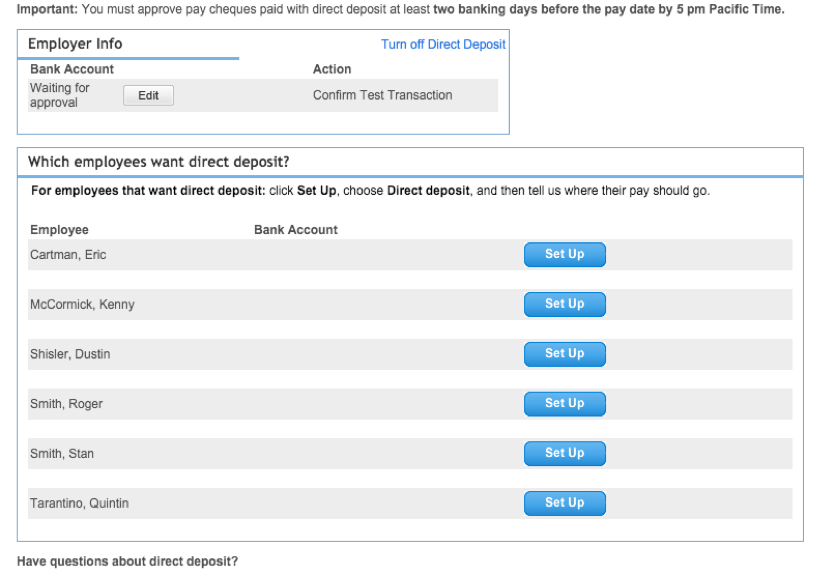 To set up each employee with direct deposit: 
Ensure the employee has properly filled out the Direct Deposit Authorization Form. 
Click Set Up beside the desired employee.
Select Direct Deposit in the What do you use to pay Employee? drop down menu.
Fill in the fields using the information from the employee's authorization form.
Click OK.
This completes the set up process and you're now ready to use direct deposit to pay your employees!