Here are steps to fix some of the most common banking error codes. If your error code isn't listed below, please search on the Intuit Community
From the left menu, select Banking then Banking.
Select Update at the top right.
If prompted, enter your Multi-Factor Authentication (MFA) credentials, then select Continue Update.
You'll receive a notification when the update is complete, and if successful, you'll see that the date of last update and total number of transactions have changed.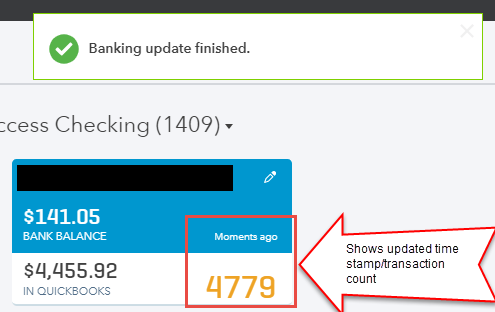 Note: Manual updates will download any new transactions listed from the last successful update. That way, if you have to skip days between updates, the download will still get the most current information.
Also, keep in mind:
Some banks and credit card companies don't post transactions for download until later in the day or the next morning.
Often you're able to see pending transactions on the bank's website but they won't be downloaded until they post.
If there are missing transactions, wait at least 24 hours in case your bank doesn't make them available immediately.