Undo Reconciliation Overview
QuickBooks Online Accountant provides accountants with an exclusive ability to undo reconciliations without manually editing individual transactions from within the register.
 
Undo a reconciliation
Note: This feature is designed for accounting professionals and is exclusive to QuickBooks Online Accountant subscribers.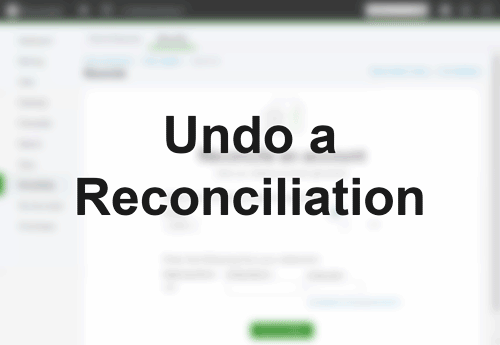 To undo a reconciliation:
Click the gear icon, located in the top-right corner of the screen.
Under Tools, select Reconcile.
Click the Reconciliation history link at the top of the page.

Note: This will display the Reconciliation History page.

Select the desired account from the Account drop-down and select your Report period.
Locate the desired report, based on the Statement Ending Date.
Click the View report drop-down arrow, within the Action column, and select Undo.  
Review the confirmation pop-up and click Yes to proceed.
In the final confirmation window, click Undo.
Click OK.
IMPORTANT: Undoing a reconciliation will automatically undo any reconciliations that come after it, chronologically (based on the Reconciled On date).
Click the Undo button.
HOW18226