Refer to this article if you are experiencing difficulties migrating your inventory data to QuickBooks Online, and meet the following criteria:
You are using the most up to date version of QuickBooks Desktop Pro/Premier 2014 and later or QuickBooks Desktop Enterprise 14.0 and later.

Inventory can't be imported into QuickBooks Online if you are using the Enhanced Inventory Receiving feature of QuickBooks Desktop Enterprise. This feature can't be turned off in QuickBooks Desktop.
Inventory can't be imported into QuickBooks Online from QuickBooks for Mac.

You received an email error message after importing with this subject line: There was a problem copying your company file to QuickBooks Online.

You would only receive this email after attempting to recalculate transactions during the import process to the QuickBooks Online method of First-in-First-Out (FIFO).
Follow this list of steps for more information on resolving issues with converting QuickBooks Desktop data to QuickBooks Online.
When you import data on the latest release of QuickBooks Desktop 2014 or later by selecting Export Company File to QuickBooks Online, you will see this message:


 If you chose to recalculate your transactions in QuickBooks Online using FIFO as of a certain date, and don't see any data imported after 24 hours, then you'll receive an email similar to this one:
Subject line: There was a problem copying your company file to QuickBooks Online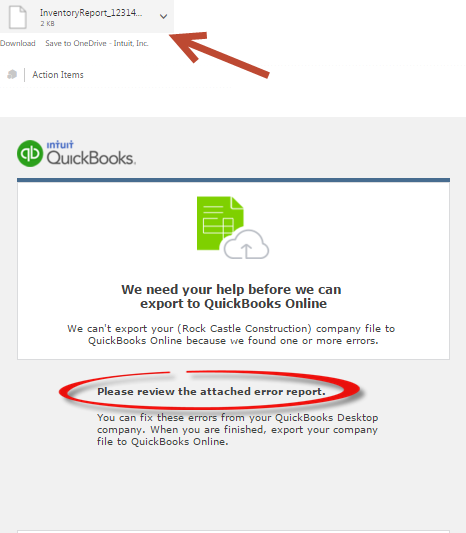 Here is a list of the issues that may require attention and how to resolve them.
QuickBooks Online requires an item's Income/COGs/Inventory Asset account to be of type Income/COGs/Inventory Asset or equivalent.

There are 3 account types that need to be correctly associated with your inventory items in order for your books to be accurate

Income=Income type
COGS=COGS type
Inventory Asset=Inventory Asset type

Use the Error Report attached from the email you received to identify which items need to be edited.
Changing the items so they are associated to the appropriate account types will make your reporting more accurate both in QuickBooks Desktop and QuickBooks Online.
If you have multiple items that need to be edited, you can use the Add/Edit Multiple List Entries Option in QuickBooks Desktop. Or, watch the video below for instructions on how to quickly fix these inventory items: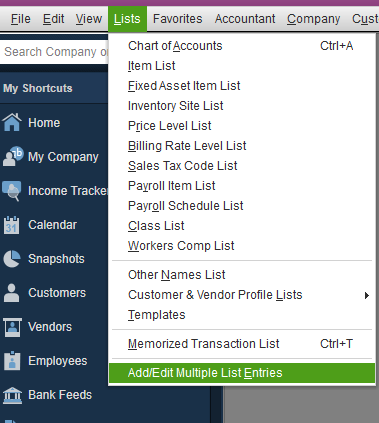 Flat Rate is not supported yet.

This is an error with a sales tax rate as we do not yet support flat rates.
Go into your QuickBooks Desktop file and edit the rates for your sales tax items to ensure they have '%' symbols in them
You will also want to make sure you are retroactively updating the transactions as well when you save an edited item.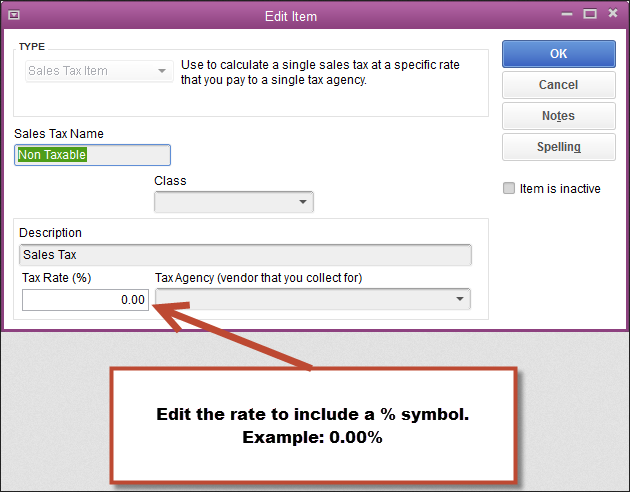 Quantity required for tracked Inventory item.

QBO needs to calculate your current Quantity on Hand so that your inventory accounting will be accurate.
This error will occur when you have a posted transaction with no value in the quantity field on a line item.
The error report will show the date and transaction type (Invoice, Bill, etc.) that is causing the import to fail.
To fix this:

Do an advanced search in QuickBooks Desktop (Ctrl + F > Select Advanced Search tab > Filter by date).
Once you have the transaction open, look at the line items with inventory parts on them.
If you find a line with the "Quantity" field showing up blank, then you need to enter a 1 or value that will not change the rate and amount of the line item.
Once you've updated the blank quantities on all the line items, save the transaction.
Do this for as many errors as the emailed error report shows.
After you have fixed all the line items, attempt the import to QuickBooks Online.
Follow this process for all the different errors in the email you received, and then reattempt the import process.