If you're looking to export your data from QuickBooks Online, here's a quick visual guide for you to use.
If you're having trouble installing the ActiveX control or getting error messages, or for more information on export, see article Exporting data with Internet Explorer 11.
Important:
Exporting is only supported from Windows computers running a 32-bit version of Internet Explorer 10 or higher.
Exporting data is only available for the US product at this time.
You must be logged in as an admin user on both QuickBooks Online and Desktop for this process to work. Below is the image a non-Admin user will see when trying to export.
---
Step 1: Run Internet Explorer and Quickbooks Desktop as the Administrator even if you are logged in to your computer as the Admin.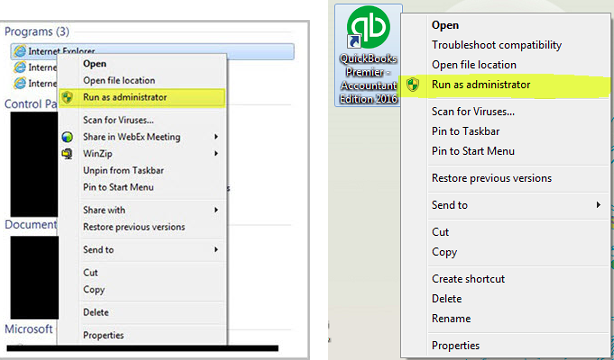 ---
Step 2: Turn off Protected Mode from Internet Options (Alt+X).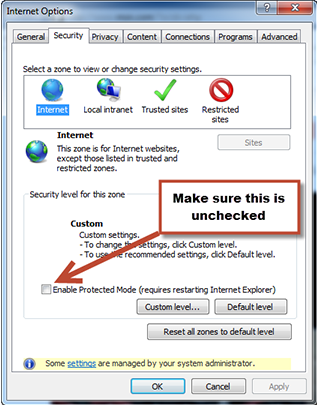 Note: after doing this you will have to close/reopen Internet Explorer for Protected Mode to be truly disabled.
Repeat step 1 before opening Internet Explorer if you have to disable Protected Mode before moving onto step 3.
---
Step 3: Add https://*.intuit.com, https://*.qbo.intuit.com, and https://*.quickbooks.intuit.com to your browser's Trusted Sites Zone (

instructions

).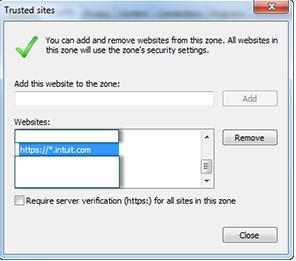 Note : Make sure the require server verification box is unchecked. You can also refer to add Intuit as a trusted site for more detailed instructions on how to add trusted sites.
---
Step 4:  Navigate to the Homepage and click the Gear icon and select Export Data from the menu:

---
Step 5: Look over the step by step Export Overview. Click Get Started.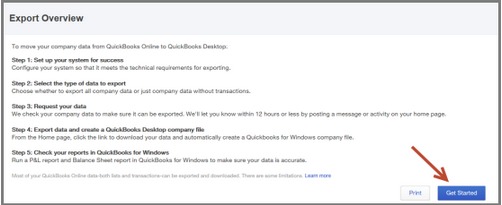 ---
Step 6:  Click to install the ActiveX control.  If the Install button is grayed-out, click Continue and skip to Step 9.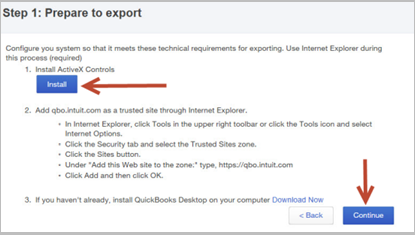 ---
Step 7:  Confirm ActiveX installation: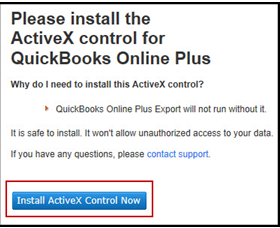 ---
Step 8:  Click Continue.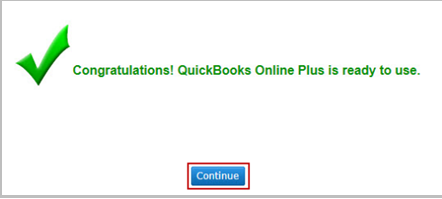 ---
Step 9:  Now that ActiveX is installed, let's start the Export. Click Continue.

---
Step 10:  Select data to export. Click Continue.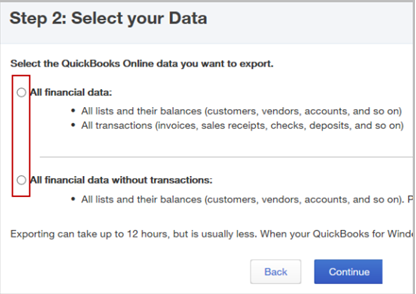 ---
Step 11:  Review limitations of what information will be exported. Important:  This step tells you how your data will be changed after the export! Click Continue.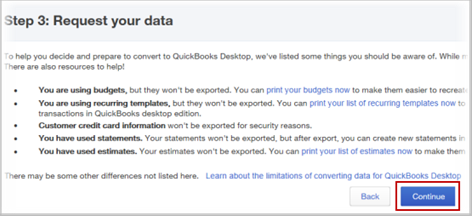 ---
Step 12:  Enter your contact information. This is where you will be notified once the file is ready!

---
Step 13:  Now its just a matter of waiting for the email for when the data is ready!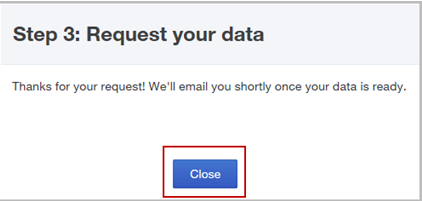 ---
You'll receive an email with steps to complete the export conversion within 1-2 hours.  After you receive it, follow those steps to open the file in your QuickBooks desktop edition:
 
Step 1:  Go to your company Home page in QuickBooks Online. Begin the export process again, since now your company info has been generated.

Follow the prompts until you reach this screen, then click Continue to Download.
---
Step 2:  Click Download.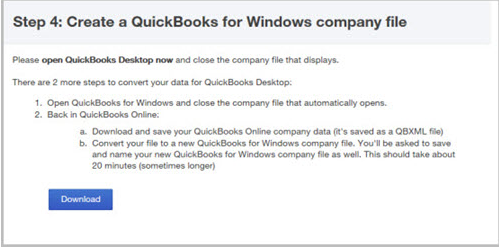 ---
Step 3:  A pop-up window will appear and ask you where you'd like to save the file (we suggest the Desktop folder).  
Don't change the name of the file (you can name the file in the next step), just point it to the Desktop and click Save.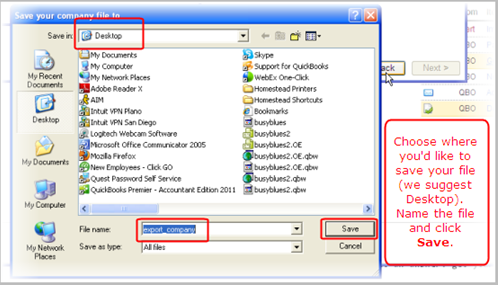 Don't worry if the download takes longer than a few minutes.
Depending on file size, it may cause IE to be unresponsive during the process as well. Not to worry, it's hard work putting all that complex information onto your local machine!
---
Step 4:  Make sure QuickBooks Desktop is Open and showing the "No Company Open" screen.
Having no company open in Desktop will allow QBO to better communicate with it when it attempts to generate a .QBW file.
If you have a file open, you can go to File > Close Company.
---
Step 5:  After the file downloads, click Convert Now.

---
Step 6:  Save the file in the same directory where you installed QuickBooks desktop.  If you're having trouble finding it, here's a chart that will help.
 
Make sure to store the file to your Local Computer, 

"Stored on your local computer" means stored on the hard drive, not on an external drive, a CD or DVD drive, USB drive or a Network Attached Storage.

 

??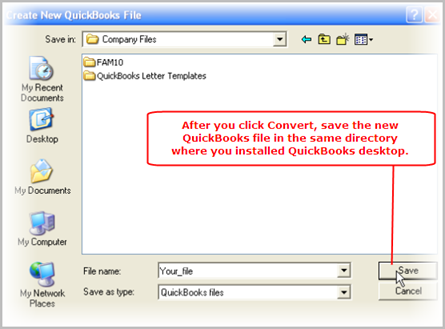 ---
Step 7:  The conversion process will now begin and you'll see a status bar. 
If the status bar isn't moving, you probably need to allow access to your QuickBooks desktop edition.  If so, minimize all your windows or click on the QuickBooks desktop edition application on your taskbar: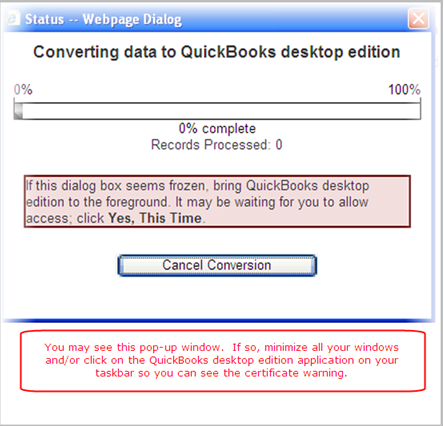 ---
Step 8:  When you've located the certificate, click Yes, prompt each time or Yes, this time then click Continue.
---
Step 9:  You'll get a pop-up window confirming that you've granted access.  Click Done.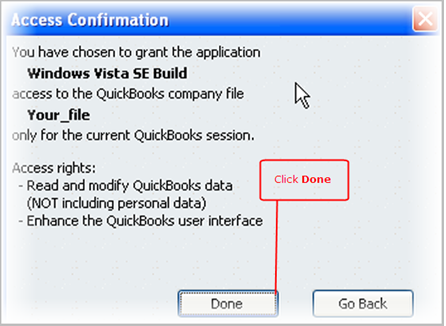 ---
Step 10:  The final step is to run some reports to confirm that your data successfully converted.  
Click which Reports to view the information and then click Finished.

We suggest you run 2 reports in both QuickBooks Online and in QuickBooks for Windows to ensure that your data was transferred correctly.
Profit and Loss

Balance Sheet 

In order to compare data accurately, 2 things are vital to verify on your reports in both products: 

 1. Ensure that you are running the reports to include All Dates. 
 2. Your accounting method must be set to Accrual. 
Important: If you lowered your security settings in following the steps in this article, be sure to change them back so that you don't leave yourself open to viruses when navigating to other websites in Internet Explorer.
6546