If you have a GoPayment account you've been using and you now want to integrate it with QuickBooks Online:
Sign in to QuickBooks Online.
Choose the Gear icon > Company Settings.
On the left menu, click Payments.
In the Existing account section, click the blue Connect button.
Quickbooks will search for any Merchant accounts associated with your user id.
Confirm the correct Merchant account is listed.
Click the Link account button.
Depending on the specific type of merchant account you have, you may not be able to link it from the website.  In that case, you'll need to call Payment Services support at 800.558.9558 to complete the process. 
If you see a subsection called Merchant details, then your QuickBooks Online company is already linked to a Merchant Service account.  You can click on the blue Manage details button to see more information about that account.
If you want to unlink the currently linked account and link another, you'll have to contact Payment Services support at 800.558.9558.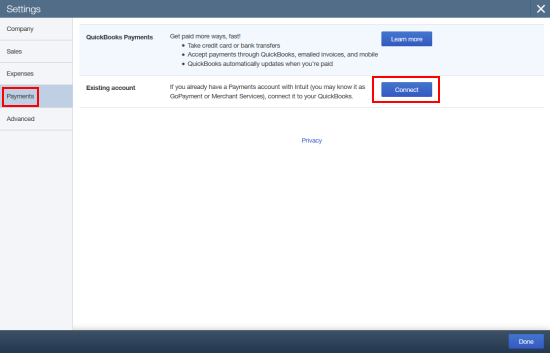 6529