Sometimes, you receive an error when you try to import your banking transactions into QuickBooks Online.

The reasons can vary, but for many errors, the steps listed below will clear up the error for you.

Perform the steps below in the order listed - you may only need to follow one or two of them to resolve the issue, but some issues may require that you complete all of them.
Step 1, run a manual update on your bank account:
From the left menu, select Banking then Banking.
If you only want to update some of your accounts, click to unselect the unwanted accounts. Blue indicates the selected bank, grey means it's unselected.
Click the Update button in the upper right corner.
If prompted, enter your Multi-Factor Authentication (MFA) credentials (this must be done within 2 minutes of box appearing) and then click Continue Update.
You will receive a notification when the update is complete, and if successful you will see that the date of last update and total number of transactions have changed.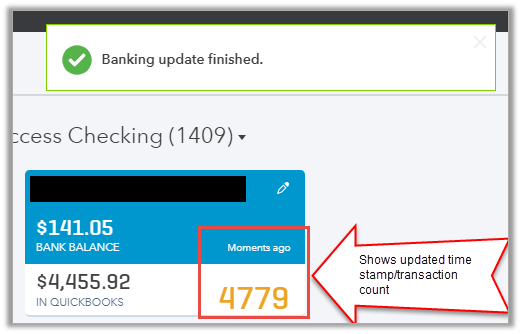 Note:
Manual updates will look back 90 days and download any new transactions listed within that period of time. That way, if you have to skip days between updates, the download will still get the most current information when you do connect to your account.
Also, keep in mind:
Some banks and credit card companies don't post transactions for download until later in the day or the next morning.
Often you're able to see the transaction on the bank's website but they won't be downloaded until they post.
If there are missing transactions, wait at least 24 hours in case your bank doesn't make them available immediately.

Step 2, verify that you can log into your bank's website through the URL the bank has provided for online banking:
Follow the steps below to verify that you can connect to your bank through the link used in QuickBooks Online.
From the left menu, select Banking then Banking.
Select Add account at the top right of the Banking screen.
Search the name of your financial institution.
Under results, select the bank.
At the top of the window, click the link for the bank's website.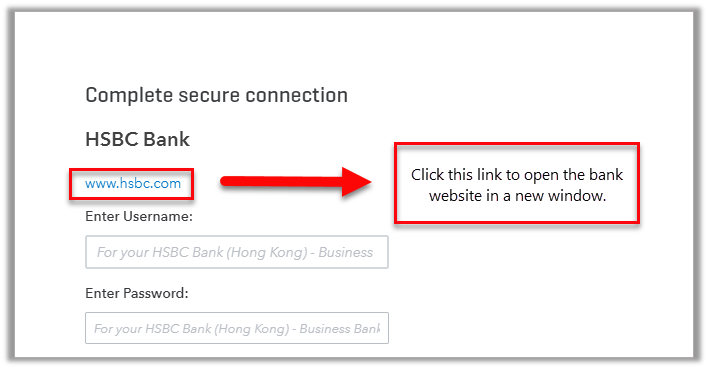 A new window will open for the bank's website. Make sure you are able to access the accounts through this site by confirming you can see the account summary, account history, and account details without any errors.
In order for us to support connection to a bank account, you must be able to access the account through this link. Sometimes a financial institution will have multiple logins to different types of accounts, but they choose to only release one website for connection to QuickBooks Online

Step 3, verify that there are no changes required by your bank:
If you are successful accessing your account in Step 2 above, the next troubleshooting step is to look for a message, notification, or alert from your bank indicating that something isn't working as it should be.
Sometimes, this will be a message that you need to update your password, or that the bank has enabled new security features that require you to take action before you can proceed.

Step 4, wait some time and try again:
If you have tried all of the steps above, wait at least a day before trying again.  This allows the bank time to fix any server issues.  
Step 5, if none of the above resolve your issue:
We want your feedback: 
Please let us know how this article worked for you!
  6540