Bank Feed Rules
Bank Feed Rules go beyond the automatic memorizing and categorizing that QuickBooks Online does. For frequently downloaded items, rules can save you lots of time by scanning bank items for certain the details you assign for specific payees and categories.  
To Create a Rule:
Select Banking from the left menu.
Select Bank Rules at the top.
Select New Rule at the top.
Fill in all the fields.
SelectSave.
Note: Rules apply to unaccepted transactions only (New Transactions tab on the banking downloads screen). 
To reduce the need for multiple rules, you can create rules with "or" so that transactions are edited when they meet any of the outlined conditions. In order for the "or" function to be available, you must change the drop-down so that it shows "when a transaction meets ANY of these conditions"
You can also Import Bank Transaction Rules from another QuickBooks Online Company.
In the Company that has the bank rules set up:
Select Banking from the left menu.
Select Bank Rules at the top.
Select the New Rule drop-down arrow and select Export Rules (there must be rules set up to see the option).
Save the file in Excel.
Log out.
Next, Switch to the Company you want to import the rules to:
Select Banking from the left menu.
Select Bank Rules at the top.
Select the New Rule drop-down arrow and select Import Rules.
Select Browse to upload the Excel file.
Select the rules and details you want to import.
Default Accounts
Default Accounts are used when it is unclear how a transaction should be categorized. The purpose of Banking Rules is to accurately categorize transactions; and since these accounts do not accurately depict the category they are ignored by Banking Rules. The following default accounts should not be used in creating a Banking Rule.  
  - Uncategorized Income
  - Uncategorized Expense
  - Uncategorized Asset
Note: Bank Rules will also ignore these accounts if they have been renamed.


Bank Feed Recognized

You are now be able to see when transactions in the banking menu have been recognized by the system.  Green indicators will show that QuickBooks Online has recognized the transactions because of rules, matching, or auto recall. You can add transactions from the recognized page or click on the line of the transaction to edit before adding it.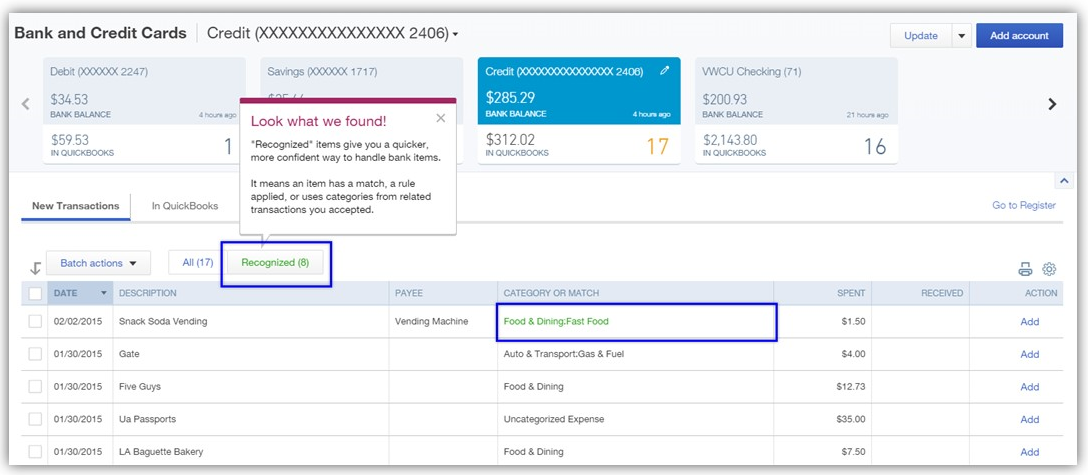 Automatically add to my books
You can now create targeted rules to have transactions automatically accepted into your books from bank feeds.

To use click the check box at the bottom of the Rules edit screen and then click save.

However, please be sure to start slow with this feature using easy reliable transactions first. For, example Gas Expenses under $100.
This feature is for expert users who have experience using Rules.
How it works:
After creating the auto-add rule, any affected transactions in the "ForReview" section are automatically added.
Auto-add Rules are run:

When user logs in
When manual update is run
When a file upload is done
After a new auto-add rule is created/modified
A message will show how many transactions were automatically added in most cases.
6750