Moving your file from QuickBooks Desktop to QuickBooks Online? Here's a step-by-step guide to help you.

NOTE: If you only have an older version of QuickBooks installed (or a backup file from 2015 or earlier), you'll need to first download an updated trial from this list QuickBooks Desktop trial links.
 

Before you convert your file, review the following important information:

You can only import QuickBooks Desktop data within the first 60 days of your QuickBooks Online company start date.

DON'T attempt to convert your file if you've already turned on Payroll in QuickBooks Online.

Your QuickBooks Desktop file will replace your entire QuickBooks Online file and overwrite any existing information.

.

Your QuickBooks file must be under 350,000 targets (file size does not matter).  If you are over this limit, you will only be given the option to import your lists and/or balances. To check the number of targets in your file and trim it down if necessary, see Condense your QuickBooks Desktop file.
You must be an Administrator user in both your existing Desktop file AND in your QuickBooks Online account.
If you receive errors regarding the file you're importing, see Errors Importing to QuickBooks Online.
To review key differences and unsupported features prior to moving, see Import Limitations - QuickBooks Desktop to QuickBooks Online.
If you prefer, you can watch this video tutorial:

To convert QuickBooks Desktop file to QuickBooks Online:

Step 1: Import from QuickBooks Desktop
Select the QuickBooks Desktop product you want to import from to see the instructions for that product.
QuickBooks Pro/Premier files
Open the file you want to export, then select 
Company
>
Export Company File to QuickBooks Online
.
If you don't see the export option, follow these steps to update QuickBooks Desktop
Click Help > Update QuickBooks.
Select all updates in the Update Now window.
Click Get Updates.
Once the updates are complete, select Close, then File>Exit.
Start QuickBooks again and finish installing the updates when prompted. These updates may take more than 15 minutes to install, depending on how long it's been since your last update.
IMPORTANT: 
If all updates are not downloaded and installed, the export company link may not appear.
If you are unable to complete the updates, please review
Fix QuickBooks Desktop Update Errors
.
QuickBooks Enterprise files
 
IMPORTANT NOTICE:
We do not recommend moving data from a QuickBooks Enterprise file to QuickBooks Online, because data loss is likely to occur. 

As an Enterprise user, you have access to many advanced features that are not supported or available in QuickBooks Online.

If you upgraded to Enterprise by mistake and think that QuickBooks Online is a better fit for your business, please review Import Limitations - QuickBooks Desktop to QuickBooks Online.
Open your company file.
Press Ctrl+1 to open the Product Information window.
Press Ctrl + b + q. 

(It will seem like nothing happens. It's very important that you CLOSE the Product information window to see the underlying WEB BASED QBO sign in for the next step).

Click OK to close the Product information window.

Follow the prompts to Connect to QuickBooks Online.
NOTE: If the sign in window doesn't appear after you close the Product Information window, repeat steps 1 - 4.
Step 2: Connect to QuickBooks Online
Enter your QuickBooks Online login credentials (User ID is usually the email address you used to sign up), agree to the Terms of Service, and click Submit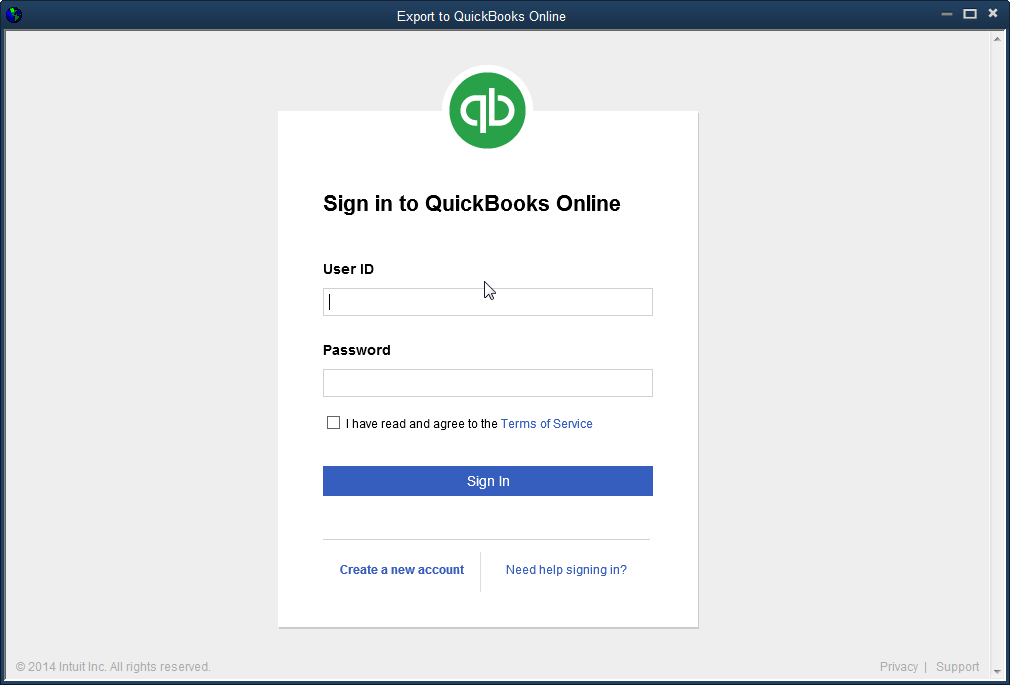 If you have inventory in your file, and are importing from QuickBooks Desktop 2016 or later, you will see this screen, otherwise skip to step 3.
If you need to import inventory from your QuickBooks Desktop company file, or if you have extensive inventory that requires tracking, you will need the QuickBooks Online Plus package. Simple Start and Essentials don't have this functionality. You can enable tracking Quantity on Hand in the Company Settings of your QuickBooks Online Plus file after migration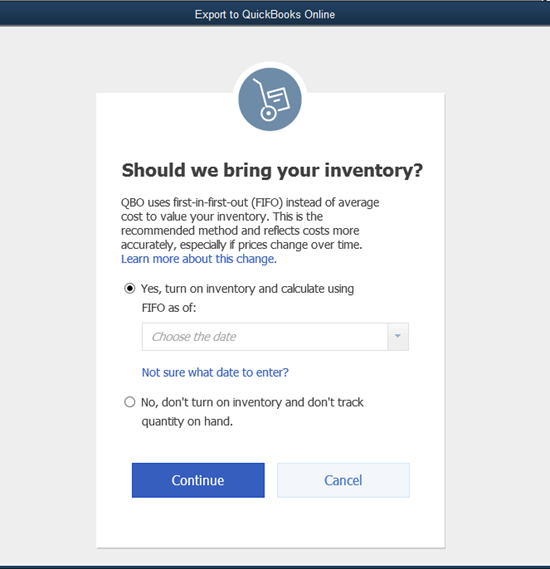 Pick the QuickBooks Online company you want to import your data into, or choose to create a new company.
IMPORTANT: If you have already created a QuickBooks Online account, select that account from the drop-down. Do not create a new QuickBooks Online company.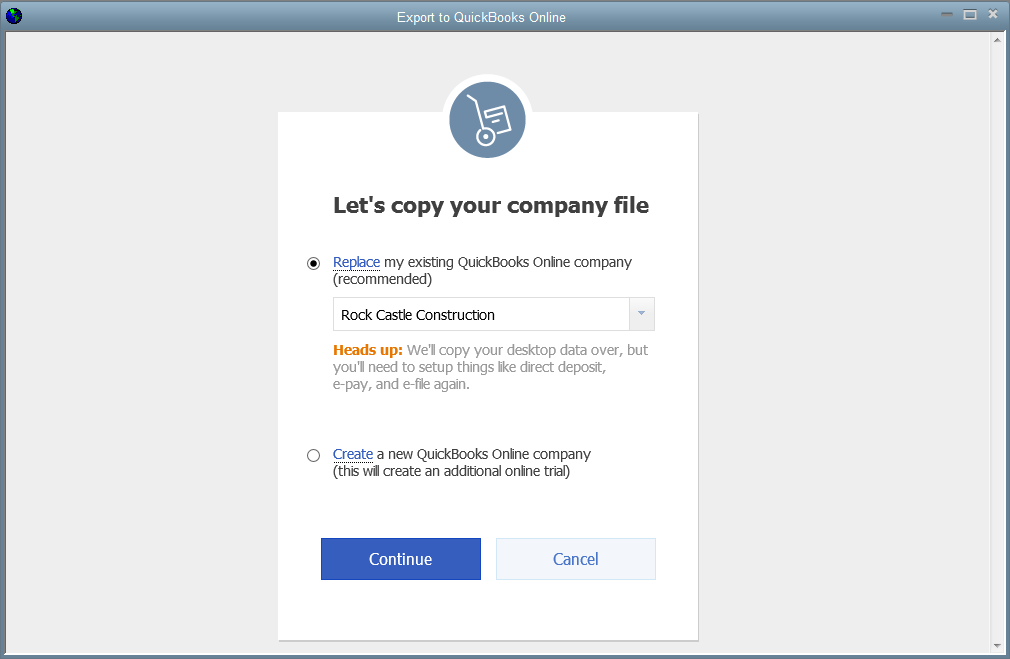 Click OK, Got it.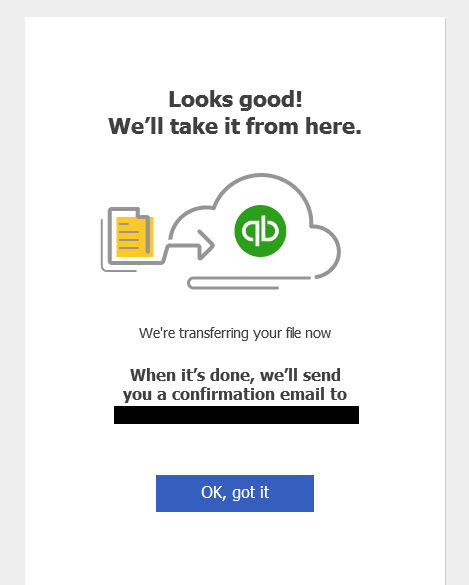 That's it. We'll email you when the import is done.
NOTE: 
This import can take up to 24 hours.
6012