You can now import your favorite invoice template directly into QuickBooks Online! Importing styles brings enhanced flexibility to highlight your brand.


Use this table of contents to navigate this article:
How to use the Import Styles Feature
NOTE: Only Company and Master Administrators are enabled to Import Custom Forms. 

If you are in a company with the feature enabled, you will see "Import Style" as a choice in Custom Form Styles. Choosing this option takes you to through a guided process to import a Style that can then be used like regular QBO Styles.  
You can upload your style using a .docx file. To upload your form style, follow the steps below:
Select the Gear icon at the top >, then select Custom Form Styles
Click the arrow next to New Style, then select Import Style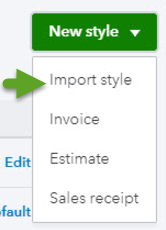 Import Style Process
Importing Styles into QBO is a three step process: (1) Document Upload (2) Data Mapping and (3) Preview and Save. Before you invoke "Import Style", you must have your target Form created using Microsoft Office Word 2010 (docx) format AND marked out fields in the document, that you want replaced with data from QBO. You may also use the sample provided to get a head start. In the sample document below, the highlighted areas contain sections where chevrons are placed around dynamic data. Dynamic data is any data that needs to be provided by QBO when the invoice is created. 

Document Upload 
Adjust your .docx file until your style template looks just the way you want it. Add chevrons around text that QuickBooks should map data to.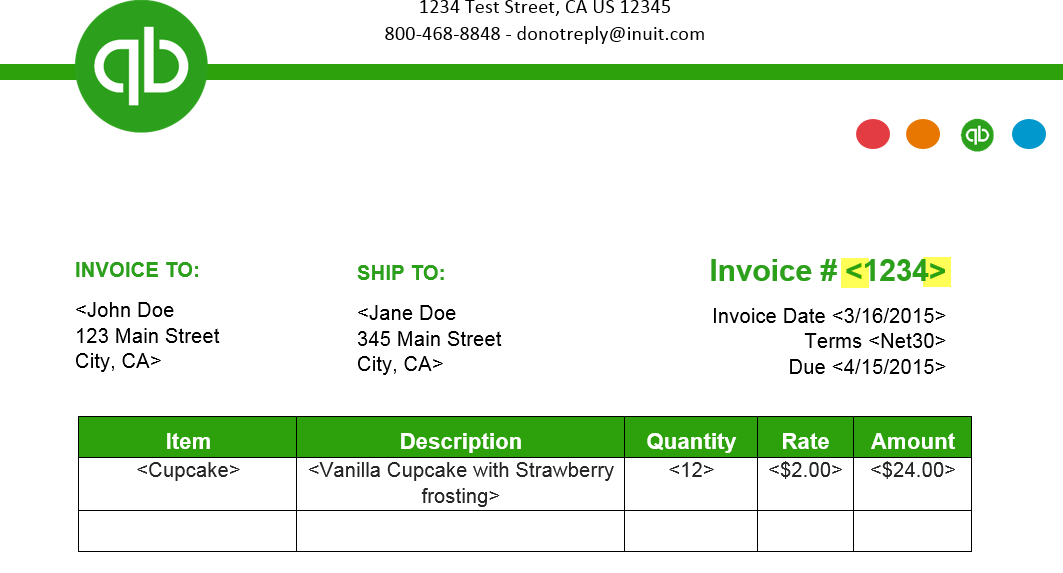 After this marking is complete, you are ready to upload the document into QBO.  Click Browse to select and upload your file.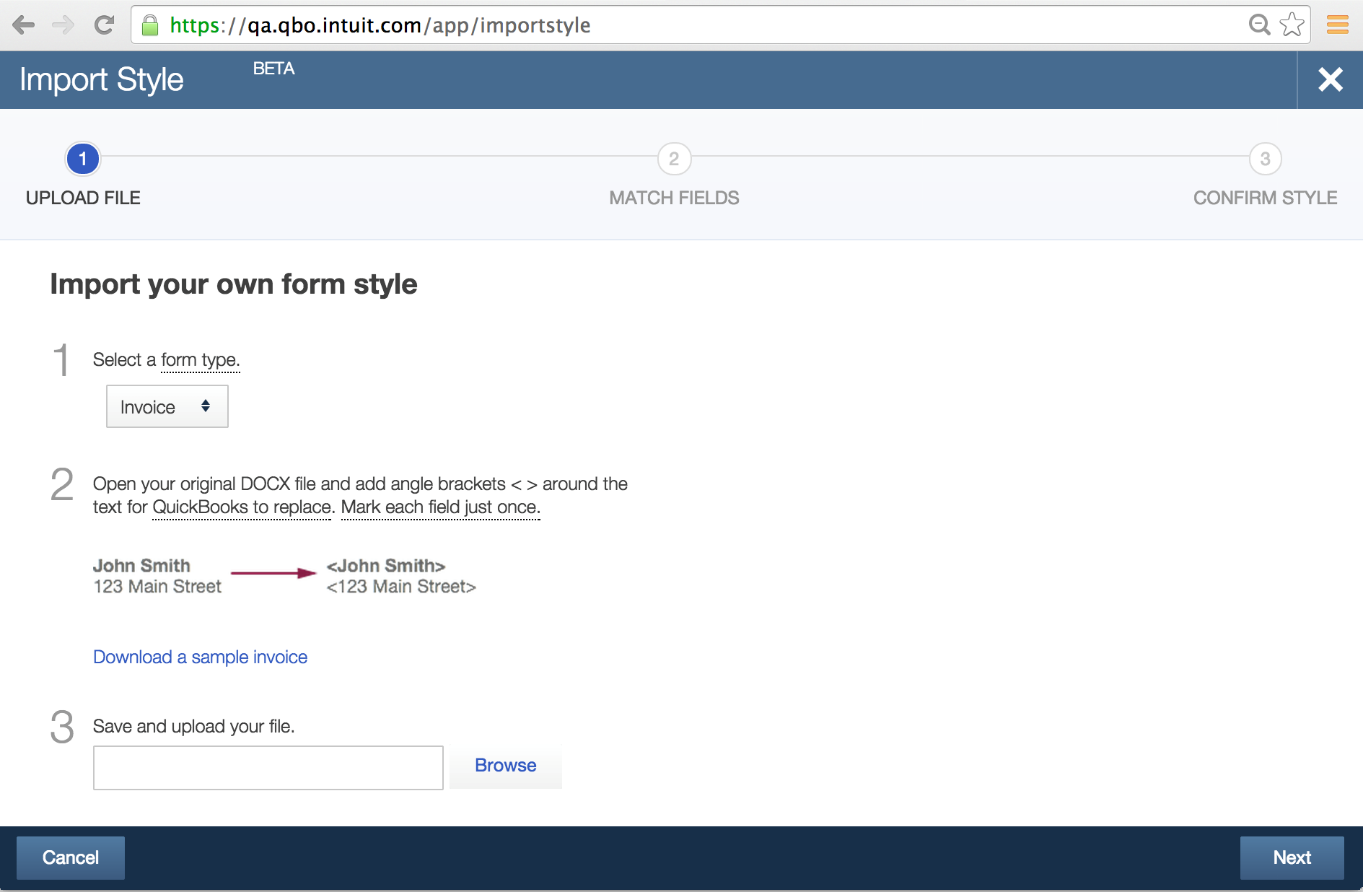 The uploaded document is then analyzed and scanned for marked fields prior to mapping. Upon successful upload you should see a screen that looks as below. If this process is not successful you will see errors. Upload errors are documented under Document Upload-Errors section.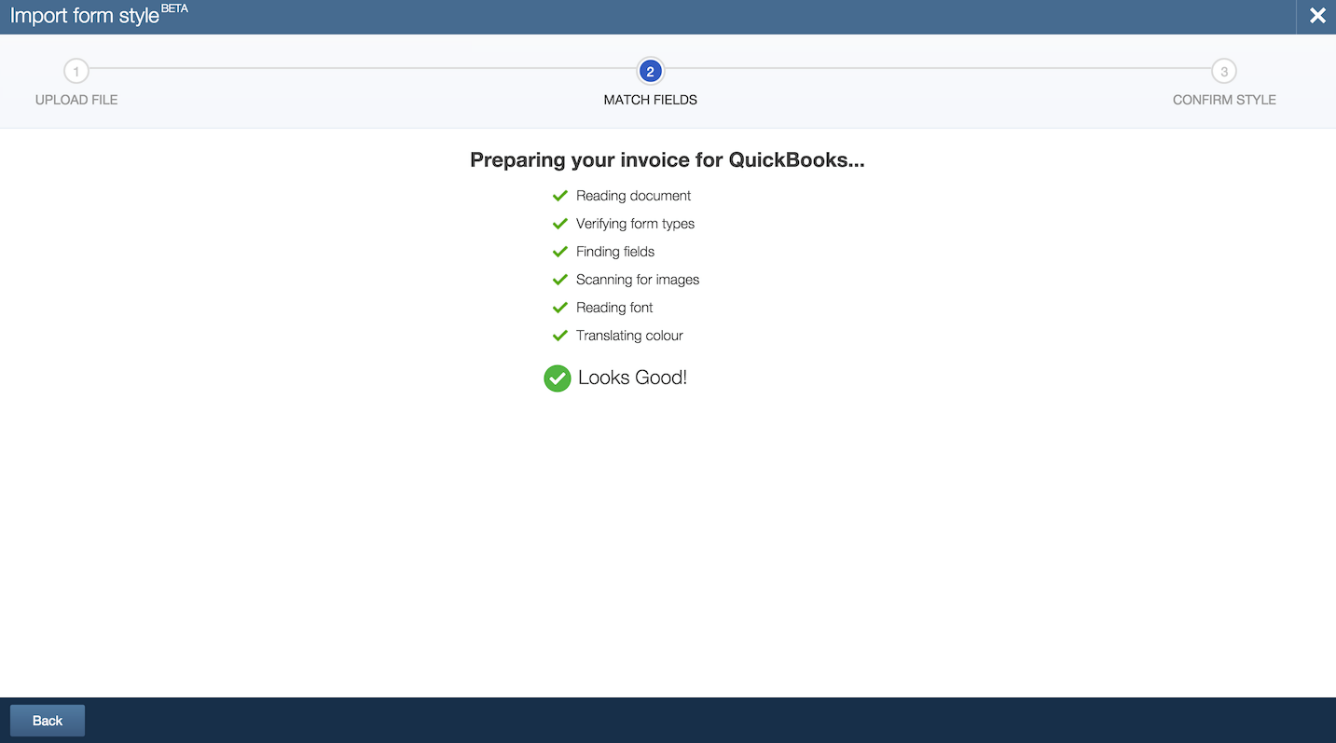 After the upload is successful, you are ready to move to data-mapping phase.

Note: The sample document that can be downloaded to help you start can be seen below. To download the sample document, click on the link under step 2 of the Import you own form style page.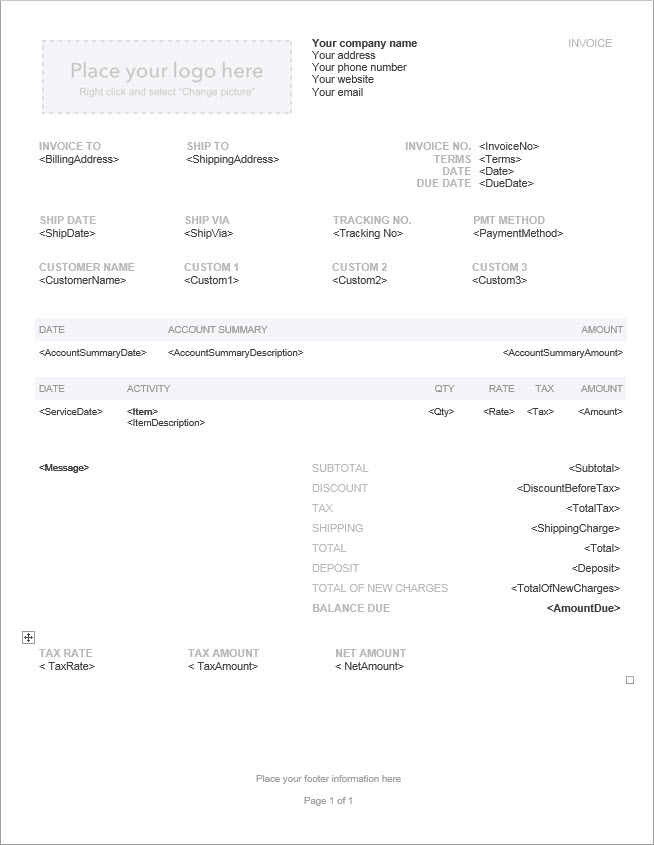 Data Mapping
The data mapping phase allows you to map marked areas in your document to QBO data fields. Initial mapping is performed using a auto-mapping algorithm, which tries to predict QBO Data with which marked areas must be mapped. Map the fields from your template to QuickBooks Online. You will see the text in your field displayed next to a number that corresponds with the number on your invoice preview. As a sample, note the mapping of fields highlighted in screen for the Sample Document shown above: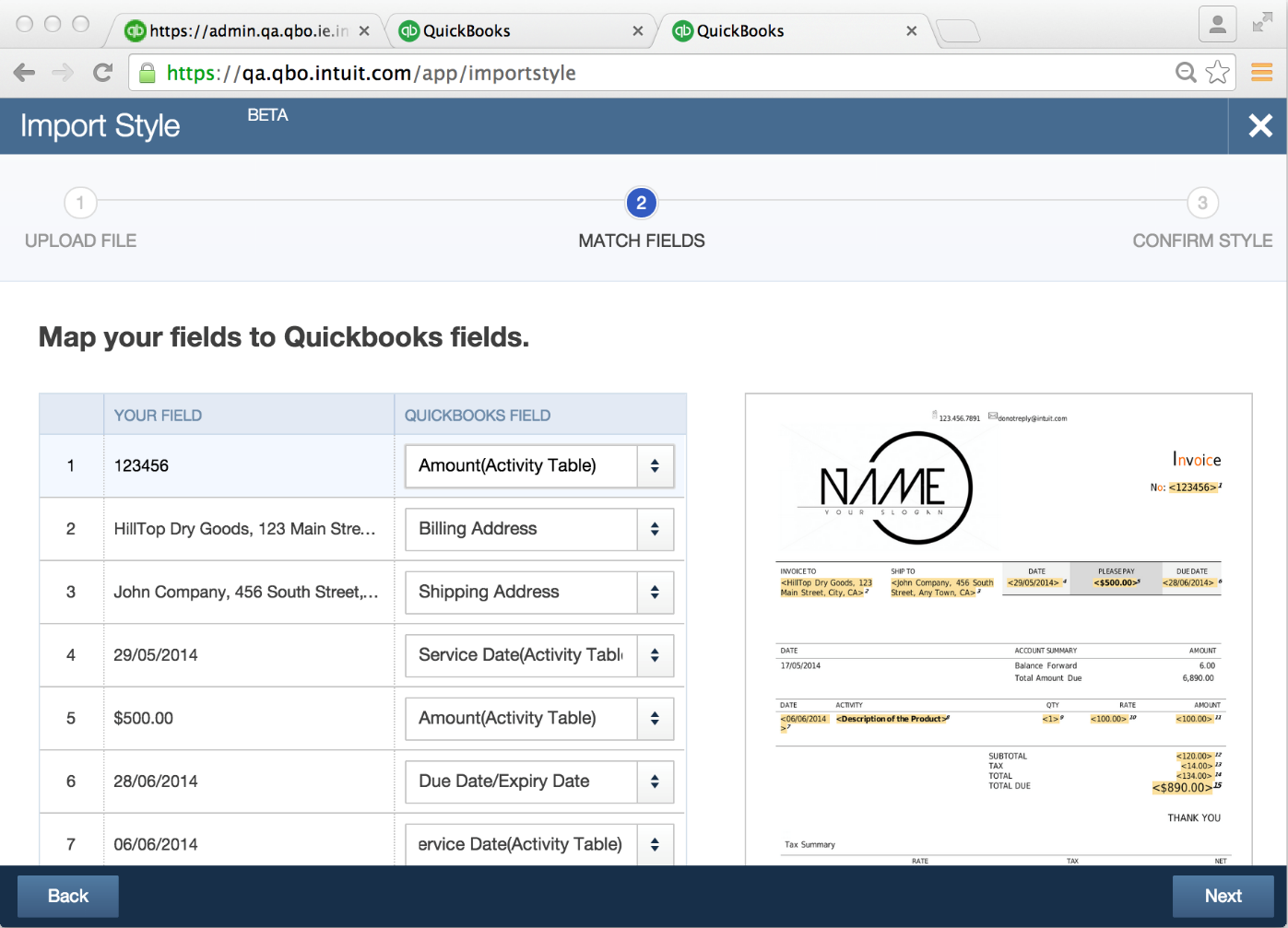 Preview and Save
Once everything looks right, click  Next , and you will be able to preview your invoice. If you're happy with your style, click  Save , then type in a name for your new style. Your style is now ready to use!  
Best Practices
Are you ready to import your own style? Before we get started, here are a few quick tips:
· Avoid marking data that does not change – If information like your company name, address, and contact information stays the same, there's no need to mark them on your forms
· Use tables to contain content – Instead of using images or other graphic elements to design your form tables, use MS Word Table Styles for the best results and when marking Tables mark the entire row and each column separately. To avoid loss of time, mark only one row in a table
· Fonts – For us to upload your style successfully, you will need to use one of our supported fonts:
o Arial Unicode MS
o Courier, Courier Bold, Courier Oblique, Courier Bold-Oblique
o Helvetica, Helvetica Bold, Helvetica Oblique, Helvetica Bold-Oblique
o Times Roman, Times Bold, Times Italic, Times Bold-Italic
o Symbol
o Zapf Dingbats
Other fonts in your template will not be used in your uploaded style. Don't worry though, more supported fonts are on the way!
· Keep tables independent – We recommend keeping your table layouts simple to provide the best results. Tables placed inside of tables, or merging and splitting cells can cause unexpected results. Try using tables with simple rows and columns.

Need more help mapping your fields?
Check out this guide All About Mapping Your Style Fields
Import Style Dont's
While you're perfecting your template, be sure to avoid these things:
· Audio
· ClipArt, Word Art
· Animated GIFS
· Embedded files
· Adding or updating hidden links or merging fields
· Files over 2MB
· Non .docx file types or older MS Word documents renamed as .docx files
· 
Do not use MS Word Macro Syntax as it interferes with syntax used for marking​
Common Upload Errors
If you receive an error when uploading your style, take a look at these quick hints:
| | | |
| --- | --- | --- |
| Error code | What does it mean? | How can I fix it? |
| size_validation_error | Your file is too large to upload | Your document must be less than 2MB |
| extension_format_error | The file you selected isn't of a type we support | Try uploading a Microsoft Office 2010 (*.docx) file |
Mapping Errors
| | | |
| --- | --- | --- |
| Error code | What does it mean? | How can I fix it? |
| Fetching preview failed | An attempt to create a preview of your style failed | Check for chevrons applied wrong places or applied incorrectly. Try to reduce fields marked with chevrons until your preview succeeds and then add additional chevrons to isolate the mapping error. |
| Save Mapping failed | The selected mappings could not be saved | Please try again or contact support |
| No Mapping found | The mapping wizard could not find any field that required mapping | Please mark at least one data element on your template with chevrons in order for mapping to work |
| Multiple Page Document | The document uploaded has multiple pages | Please restrict the Style to a single page document |
Additional reasons why Data Mapping may fail.?
All columns of a table element were not mapped at the same time
Marked Data element was of type simple field whereas field mapped to it was not
Marked Data element was inside a table but a simple field was mapped to it
Activity Table was merged with other tables, ex. Subtotal section
The chevrons straddled Paragraphs
A multi-line field (ex. Address) was marked using separate set of chevrons – ex. An address field was mapped as <Address Line1>, <Address Line2>, <City> etc.
The chevrons started in one column of a table and ended in another
The chevrons started in one row of a table and ended in another
QBO custom fields are used more than once on a form. 
 
---
FAQs
If you have any questions, we're here to help! We've put together answers to some common questions to get you back to business quickly.
"We can't display a preview. Please correct your mappings in the previous step and try again"
Certain fields are expected to be inside tables. For example line item information like Quantity, Product, and Price are tabular and should be inside tables. Please make sure while mapping that these fields are mapped to fields inside tables in style being imported.
Some data is not appearing in the printed or preview document. Why?
We use settings in your Standard form style to decide how data is handled and presented in your imported templates. Please enable the desired settings in your standard style by following the steps below:
1. Select the Gear icon at the top >, then select Custom Form Styles
2. Locate your Standard template, then click Edit.
3. Enable your desired settings, and click Save.
Your data should now appear in your imported style.
It's also important to note that if you do not add mappings to your style for your invoice field, that data will not be displayed on your forms later. For example, if you do not map a field for "Shipping Charge Value", shipping costs will not appear on your form regardless of if you have entered them on your invoice
Are there any restrictions on what I can upload?
Only word (.docx) documents under 2MB can be uploaded to QuickBooks.
Can I upload a style with multiple pages?
Style templates with multiple pages cannot be uploaded into QBO. It's important to note that your final invoice can take multiple pages depending on amount of line item level data.
Can I download my imported form style?
Currently, you cannot download the style that was imported. We recommend that you save a local copy of the template you imported, and take a quick note of the mappings you selected.
Do I have to have a field mapped to import a style?
Yes. The style you want to import should have at least one field that has to be mapped to data.
 
Tables in my style are not printing right.
For best results, we recommend keeping your table layouts separate. Tables placed inside of tables, or merging and splitting cells can cause unexpected results. Try using tables with simple rows and columns.
My invoice has more than 1 line item 
When attempting to import a custom template from Word and the Invoice in question has more than 1 line item on it, you must create a table for each line , if not the invoice in QuickBooks Online will only reflect first item and subsequent line item(s).
NB - India only - The Tax Summary in an invoice printed using an imported form style will show at the bottom of the invoice. This is different from the Standard template which allows the Tax Summary to get printed under the invoice subtotal.
6833