Please be advised we do not recommend manually unreconciling unless you are in the middle of a current reconcile and just need to start over. In many cases, a manual unreconcile can cause more problems than you had set out to resolve and may not reveal the root cause of the problem. 
We do have resolutions for different scenarios you may run into, and users who use the steps have a high success rate of resolving the issue. See 
troubleshooting your reconcile
for common scenarios and solutions. 
If you still wish to manually undo your reconciliation, we cannot assist you with the process beyond providing you with the following steps. We also want to make sure you understand the potential implications: 
The reconciliation opening balance is the total of all your reconciled transactions.
If you edit the status of these transactions as indicated below, it can change the opening balance on your reconciliation.
To clear, unclear, reconcile or unreconcile an individual transaction manually
Select the Gear icon at the top, then Chart of Accounts.
In the row of the account you'd like to view, select View Register (or Account History).
Find the transaction that needs to be cleared, uncleared, reconciled or unreconciled.
Go to the reconcile status column (indicated by a check mark), and select the top line of the transaction.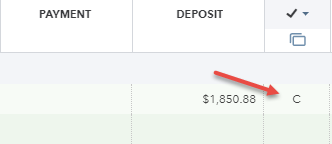 If this field is blank, the transaction is not cleared or reconciled. 
If the field contains a C, the transaction is cleared.
If the field contains an R, the transaction is reconciled.
You can continually click the box in the status column to achieve the status desired for this transaction. For example, if it was originally blank, click once and it will display a C, if you click again an R, again back to blank.


Select Save once the transaction shows the desired status.
Want to undo the entire reconciliation?
If so, you have to edit each transaction one by one as described above in order to undo an entire reconciliation. You can use your reconciliation report or bank statement to verify which transactions you need to edit.
If you created an adjustment entry, you'll need to delete that entry as well. For help on how to locate an adjustment entry see 
How do I find all previous reconciliation adjustments?
Note:
If you're connected to an accountant in QuickBooks Online, your accountant can undo or delete completed reconciliations. But you may not need to do this and lose all your reconciliation work. 
Before you ask your accountant to undo, see avoid undoing a reconciliation
6555